Part 4 (M).

THE JERMYs OF MARLINGFORD

Robert Jermy of Antingham's younger brother Thomas Jermy, Gent (born ca 1525) was married on 14 Oct 1560 (the year Robert died) to Constance Turke, a widow and daughter of John Phippes, Yeoman of Marlingford - which is a little west of Norwich. He settled in the Manor house there as a leasehold tenant of its absentee owners - the Paston family - who were involved with the Jermys over previous decades. Thomas himself was in corresponence with William Paston in 1565 concerning appointment of the High Sheriff (see reference in Valdar). His sons, grandsons and gt-grandsons would remain at Marlingford for about 100 years - although they never actually owned the major manor or estate there. In 1598, after the Jermys had residing there almost 40 years, presumably by some previous Leasehold contract, William Paston had 'demised and lett unto Thomas and his son Clement Jermy the site of Marlingford Manor for a further 21 year Lease (ie to 1619). This was soon renewed for another 60 years (to 1679). Confusingly, however, early in that latter period, later descendants of the more senior branch of the Norfolk Jermy family (of Gunton) would purchase the Freehold of the Marlingford Manor from the Pastons - on 12 Jan 1629/30 - and thus own same (as absentee owners) over much of that period, with the junior branch of the Jermys continuing to reside there however, as per the agreed lease. When this ran out - in 1679 - the two remaining Marlingford Jermys (cousins), if still alive, apparently couldn't afford the increase in rent then demanded (from £30 to £200 per annum) and it was sold out of the Gunton family about then by the widow (Anne) and elder son (Francis) of its then deceased former owner - John Jermy of Gunton, Esq (d. 1662) - as described in that section.
Image produced from the Ordnance Survey Get-a-map service and
reproduced with kind permission of Ordnance Survey.
Thomas and Constance had just two children baptised with certainty at Marlingford - a son Clement Jermy in 1561 and a daughter Ele in 1563. (An Edmond Jermy married in Norwich in 1612 who may have been a younger son - this unusual name choice appearing in the Marlingford family in the next generation - but there is no baptismal evidence.) It is possible that Constance, having been married previously, could manage only two or three children with Thomas - before age caught up with her. She died about 1579, I believe, while Thomas died on 5th July 1609. I'm not aware if he left a Will.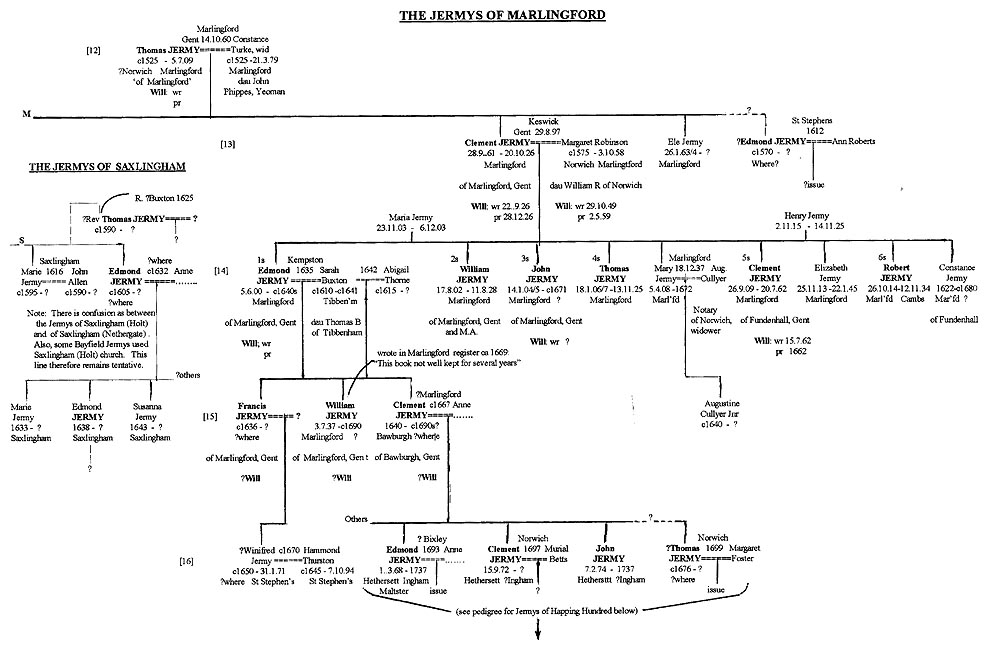 Norfolk Jermys of the 1600s
Thomas's elder son Clement Jermy, Gent entered Clare college, Cambridge in 1579, age 18 and later married Margaret Robinson, daughter of William Robinson of Norwich, in 1597 at nearby Keswick - by whom he had a large family of about 10 children over the next 20 years, at Marlingford. Both lived to a good age and left Wills - Clement's proved 20 Dec 1626 and Margaret's on 2 May 1659. As a Gent residing on a rented/leased country estate, Clement (like his father) may have had a farm manager and obtained his income from its hopeful productivity or would sub-rent his land out and live on the rental income. If possible, he would purchase rather than just rent any small pieces of adjoining land that he could manage. He was to have 6 or 7 sons and any that survived to adulthood would require educations and hopefully property of their own - whether leased or owned - before his own demise in Dec 1626. His eldest son Edmond Jermy, Gent (named after whom?) was born in 1600 - specifically, at 4 am on Tuesday June 5th that year and then baptised June 12th at St Gregory's in Norwich (possibly near his mother's family). Such detail was provided by the St Gregory incumbent. Thus, the next child was a William Jermy, - 'born between 5 and 6 am on Aug 17th 1602 and baptised 30 Aug 1602'. But subsequent issue were all baptised at Marlingford itself over the next 10 years. William went to Caius college, Cambridge in 1617, and was awarded his B.A. (1621) and M.A (1624) before being ordained a Deacon in 1626 - but sadly died in 1628 at Marlingford, aged just 26, without marrying. He had also spent a term at Oxford.
The next son John Jermy, Gent (bp 14 Jan 1604/5) remained at home on the estate, which he likely helped run - living in his Copyhold house there called The Guildhouse (inherited from his mother) which he later 'sold' to his elder brother Edmond in 1665. He lived to 1671, but apparently never married. The 4th son Thomas Jermy (bp 18 Jan 1606/7) also died at Marlingford, aged just 18, on 13 Nov 1625. A daughter Marie was born to them in Apr 1608; she married John Cullyer of Norwich (a widower) in Dec 1637 and died a widow in Sept 1672. The one other daughter - Elizabeth - born in Nov 1613, died there unmarried in Jan 1645/6, aged 32, described as a 'Gentlewoman'. The next son Clement Jermy, Gent (bp 26 Sept 1609) eventually settled at nearby Fundenhall and died there in 1662, aged 53, apparently unmarried and possibly residing there with his sister Constance (who was born in Dec 1622). The 6th - Robert Jermy - born Oct 1614, also attended Caius college (1631-34) but died there before graduating, aged just 20, and unmarried. A 7th son Henry was born in Nov 1615 but died aged 10 in 1625, the day after his brother Thomas - probably of the same infection.
The seeming lack of marriages amongst the four younger surviving sons William, John, Clement and Robert (and hence of any subsequent issue) may have reflected their limited sources of income on a relatively small leasehold estate. This went to eldest son Edmond Jermy in 1626 on his father Clement's death. [This was around the time the Pastons sold Marlingford to John Jermy of Gunton (and his elder son Francis) (not to Robert Jermy of Norwich in 1572, as mentioned in Blomefield, who says he then gave it to his son Thomas who settled there on marrying Constance, daughter of Sir(!) John Phippes.] Edmond appears to have married Sarah Buxton - on 2 Sept (or 28 Aug?) 1635 at Kempston - she the daughter of Thomas Buxton, Esq of 'Channons' in Tibbenham, Norfolk (and possibly the widow of one .....Beacon). He may have married secondly (in 1642) to an Abigail Thorne although where is presently uncertain. Edmond and Sarah had three sons - Francis Jermy, Gent, born ca 1636, William Jermy, Gent - baptised 2 July 1637 and Clement Jermy, Gent (3rd of this name), born 1640. Francis appears to have married and have only one daughter - Winifred, possibly before his early demise. William was be the one who later (ca 1672) wrote in the Marlingford register that it 'hadn't been properly kept' ca 1659-71. I have no record of him marrying and assume he died by about 1690 or so - but where is unknown; he was not buried in Marlingford, as per that register at least. The third son Clement was born in Bawburgh on 12 Feb 1640, to where his father appears to have settled latterly.
The eldest Clement's wife Margaret wrote her Will in Oct 1649 and died at Marlingford in Oct 1658, the Will proved 21 May 1659. Her son John was the executor and she left her personal property to him and other son Clement (of Fundenhall) and to daughter Constance - all unmarried and then in their 40s or more. She had transferred a house in the village to John earlier who later sold it to his brother Clement. At about this period (6 Nov 1655) John went to law in an attempt to prevent the owner of their estate, John Jermy of Gunton (d 1662), from felling timber at Marlingford (worth £200) which the latter claimed the Lease agreement allowed him to do. He seems to have won. John Jermy of Marlingford died around 1668, having been referred to in a Manor Court book of 1673 as being 'deceased some years'. The middle, unmarried son of Clement and Margaret - Clement Jermy wrote his Will (15 July 1662) described then as of neighbouring Fundenhall, Gent. I believe he died by 1665. He left £200 to his namesake nephew Clement Jermy who was then described as of Bawburgh. To his brother-in-law Augustin Cullyer, a Notary Public of Norwich, the elder Clement left two or three small cottages. The younger sons of the eldest Clement and Margaret and, in the next generation, the two younger sons of Edmond and Sarah, were often engaged in intra-family squabbles and litigation over relatively small pieces of property and inheritance. But, by the 1680s, there seemed to be no more 'Jermys of Marlingford' (of the 16th or 17th generations) left to carry on the name - at least in that parish and manor. However, the Marlingford register was, as the latter William wrote in it around 1670, 'not well kept for several years' and it now appears (see below) that one of those younger sons (Clement, later of Bawburgh, son of Edmond) may in fact have married there around 1667 (ie during this gap in the register) - to an Anne and have issue - his uncle's £200 in ca 1665 quite possibly providing him with the wherewithal for such a marriage.]
In any case, Francis Jermy of Gunton (with his mother Ann) sold (or re-leased?) Marlingford around 1679 - seemingly to Sir James Rushout, Bt, an M.P. - who in turn sold/transferrred it almost immediately to a Richard Clarke, Apothecary of Norwich. Richard Clarke died not long after and in his Will (1682) refers to his Manor of Marlingford (which extended into 5 other parishes) - recently purchased from Francis Jermy (possibly Rushout had only purchased the lease?), as well as to 'Mr Parmenter's House' in St Peter Mancroft, Norwich - previously purchased from Clement Jermy, Gent (apparently before 1677). This would be the above mentioned Clement who had resided in Bawburgh and married ca 1667, seemingly in Marlingford. The Clarkes then held Marlingford about 80 years. Today, it is a charming 'backwater' kind of village - gone slightly to seed. The Manor house is still there however and no doubt worth about £800,000. in today's market
The JERMYs of NORWICH and HAPPING HUNDRED:
A Possible Offshoot of the Marlingford Family who settled in Norwich and in North-east Norfolk
While it had long appeared that the Marlingford line had ceased in its home area in or near Marlingford by the 1680s (as mentioned above), there was an interesting cluster of Jermys noted near Stalham in north-east Norfolk where, amongst others, the names Edmond and Clement re-appear early in the 1700s. Their origin was previously not readily apparent. Were they of the Marlingford line, or possibly of the more limited Saxlingham family - where an Edmond at least also occurs? For we find that an Edmond Jermy had several children, including significantly a son Clement, baptised from about 1700 at far off Brumstead and Ingham (just north of Stalham) in Happing Hundred, near the north-east coast of Norfolk. This man appears to be the Edmond Jermy, later a Maltster of Ingham, who was shown as such in a Poll Book for 1734 (although also shown as an Edward Jermy - in error, I believe). He left a Will written 8 Oct 1737 (as Edmond Jermy, Maltster) in which he mentions sons Thomas, Clement and Matthew. To whom was this Edmond born - by ca 1670, say? Was it to that Edmond born 15 July 1638 at Saxlingham (to an elder Edmond and wife Anne). Or, more likely I believe, to the Clement Jermy of Bawburgh (born Feb 1640 in Bawburgh to Edmond Jermy of the Marlingford family and his wife Sarah nee Buxton) and hence the latter Edmond's namesake? (This Edmond seems to have re-married 2 Nov 1642 to an Abigail Thorne.)
I could formerly see no such direct connection between the Ingham area Jermys and those of the Marlingford family but a recent discovery of an Edmond Jermy born to Clement Jermy and wife Anne - in Hethersett (next to Bawburgh) on 1 March 1668/9, and baptised there on the 14th of that month, seems to provide this very linkage. The Hethersett register was examined further and it was found that before Clement and Anne had Edmond there, in March 1668/9, they'd had a daughter Mary Jermy baptised there on 30 Dec 1667, born that same day - to 'Clement Jermy, Gent' and wife Anne. This latter styling helps confirm the identity of this man as a member of the local gentry family of neighbouring Bawburgh and Marlingford. It is possible that his wife Anne's mother may have been a Mary. After having Edmond, they had a second son Clement Jermy Jnr in Hethersett (fourth of this name in the family) - baptised there on 15 Sept 1672. I had originally understood that either Edmond or Clement subsequently married in nearby Bixley in May 1697, although to whom was uncertain as the source now appears to be lacking. However, the actual register was recently examined and it was found that while there were several marriage entries in Bixley shown each year in the mid-1680s, and again for most years after 1701, there was a 15 year gap without any marriages recorded between 1686 and that latter year. The rest of the register was searched in case they were misplaced but there were no others. Possibly this entry was obtained from some marriage licence index which should be checked.
Bixley was a very small parish with one major family (the Wards) and an Anne Ward of that family born there in 1672 to Sir Edward Ward and first wife Jane, or slightly earlier to his uncle Henry Ward, would seem a likely bride for one of these Jermy brothers. (Sir Edward married secondly Barbara Gooch with whom he had a daughter Barbara Ward baptised in Bixley. The daughter Anne, if she survived, may thus have been raised by her step-mother Barbara; this is mentioned as the relatively uncommon name Barbara appears later in the Jermy family in Ingham.) It was subsequently discovered that the second son Clement did marry in May 1697 - but at St Paul's church in Norwich - to a Murial Betts. Significanly, the witness of a 1691 Will of a sister of Sir Edward Ward, Caroline Ward of Bixley, was a Murial Betts, most likely the same person. Some couples did marry twice on the same date in different churches and this may be an example of that. Caroline refers to her cousin Anne Ward, then (1691) still the unmarried daughter of Henry Ward, who would thus appear a rather suitable bride for the elder son Edmond Jermy which may be kept in mind. None of the family were shown as having been subsequently married or buried in Hethersett itself, nor in Bawburgh.
[Note: We may recall that another 'end of line' branch of the Jermy family (they of Suffolk) had also settled about then in Hethersett. One would assume that these two albeit distant cousin lines would be aware of their common origins. The father of this other family - the Rev Thomas Jermy - died there in Feb 1669/70; his wife Sarah appears to have re-married (to a John Button) in July 1677. While her elder son Thomas Jnr (born 1660) died there in 1672 - when the register was not well kept for a time after his father's death - her younger boy George Jermy (born Feb 28 1668/9, the day before Edmond) would seem to have survived childhood at least.] Later, a son William was baptised 8 Aug 1686, born to "William Candel and Mary Jermy" (shown thus). Was the latter girl Clement and Anne's daughter (born Dec 1667) and if so, was her maiden name written in full simply to emphasise her Jermy identity or was she not yet married? If not, does this provide us with yet another 'William Jermy' to consider?]
After having their 2nd son Clement, Clement Snr and Anne had a third son, John Jermy, also baptised in Hetherset - on 7 Feb 1673/4. Finally, a fourth son, Thomas Jermy, appears to have been born to them as well - in about 1676 (see below), although not baptised in Hethersett. The family may have moved to Bixley or even Norwich about then. Shortly after this, there was an Administration for a Clement Jermy granted in Jan 1677/78 by the Norwich Consistory Court which could well be this Hethersett father, although he'd be only 37. This early death could account for there being no further issue apparent for this couple. Oddly, no administrator of his estate appeared to be named in the abstract. It was in latin and apparently referred to the need for a Guardian for the sons of the said Clement Jermy (of where not stated), who were still minors: Edmond, Clement and Thomas Jermy. Possibly his son John (born 1674) had died in the interim. And the need for a Guardian could imply that Clement's wife Anne had possibly recently died herself - for example in connection with the birth of last son Thomas? One wonders who oversaw the upbringing of their 3 sons. Interestingly, the entry immediately before this extract was for a William Hey of Norwich ca Sept 1677 for whom administration had been granted to a Thomas Lyon and Clement Jermy (possible creditors). And in that same year, another Administration was granted in respect of Sir John Castleton, Bt - to be administered by his widow Mary. He was, I believe, the brother of the Anne Castelton who had married John Jermy of Gunton and, with her son Francis, had sold Marlingford around this same time. Possibly there was a virulent epidemic that year which struck some down before they could organise written Wills. Might these Gunton Jermys have arranged the upbringing of the 3 boys?
There was another Administration for a later Clement Jermy - granted by the Dean & Chapter Court in Norwich in 1707. He was most likely the middle son of the foregoing Clement. Before dealing with this second Administration, we may consider another document which appeared to pertain to this same (younger) Clement. It was a Chancery proceeding (C6/337/10) noted at the PRO. In it, a Clement Jermy of Trowse, Gent (on the south-east outskirts of Norwich) defends himself (in the spring of 1702) against one Brigg Fountaine of Salle, Esq who, in 1696, had borrowed £100 from an Anthony Barry of Norwich for which he put up (mortgaged) a property he had owned in Norwich. If, at the end of a year, Fountaine re-paid the loan plus £6 interest, he would thus redeem the mortgage and regain full ownership of his property. Otherwise, he would have to continue to pay the £6 each year or would lose the property to Barry. But, in the meantime, Barry sought to re-mortgage the property as a means of borrowing against it himself - an equal amount of £100, again at 6% interest. For this, he approached Clement Jermy on 1 Sept 1697 (and another person similarly a little later) without informing them that the property concerned was not unencumbered. He thus borrowed the £100 and paid Clement the interest due after years one and two (ie to Sept 1699) but then stopped. Significantly, he was to make his payments to Clement in "the porch of the church at Bixley." This identifies this Clement Jermy, Gent as almost certainly the one born to Edmond in 1672, who later married Murial Betts around this very time (in May 1697), with her known Bixley connections next to Marlingford. Meanwhile, Brigg Fountaine was now also owed his interest and, by late 1701/early 1702, brought the case to court after becoming aware of the duplicitous situation. Clement Jermy submitted his Answer to Fountaine's Complaint on 28 May, 1702 which ends with his signature afixed thus: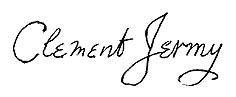 Sadly, the decision of the Court is not included with the documents but it would appear that the property would most likely have to be sold to satisfy all creditors. We may note that the second Administration mentioned above, which likely pertains to the death of this younger Clement Jermy, was dated just a few years later, in 1707. It was under the auspices of the Dean & Chapter Court which had jurisdiction in just 3 or 4 Norwich parishes (including St Paul's and the Cathedral Precincts), as well as for a few on the periphery of Norwich such as Trowse, and for 2 or 3 others in rural Norfolk. This Administration was for the goods and property of 'Clement Jermy, late of Carrow, Norwich, Gent' and was granted to his wife 'Muriall Jarmy, widow' (who signed as such) and to Ellis Braham of Trowse, Norfolk, in January 1707/08. Carrow was a district (not a parish) on the south-east edge of Norwich immediately next to Trowse. Sadly, the parish register for Trowse for the years 1695 to 1720 is barely legible due to 'water damage'; no baptisms for issue born to this couple there was discernible before Clement's early decease, aged just 35 (although one may yet check the Bishop's or Archdeacon's Transcripts to this end, and also whether he was buried at that church; the burial enteries were at least more legible than the baptisms but Clement's name was not noted amongst them ca Nov 1707; he may have been buried in St John de Sepulchre, just above Carrow). (The baptism of a son born in Trowse to his friend Ellis Braham (in 1705) was however just discernible.) We are also not yet aware if or where his widow Murial may have re-married, or left a Will or Admon herself.

The eldest brother of the above three survivors, Edmond Jermy (born 1 Mar 1668/9), appears to have married first - by ca 1692/3 (then aged an appropriate 24) although, as touched on above, in which parish is presently unknown. An Edmond and Anne Jermy (she possibly nee Ward) had a son Thomas baptised in St Michael-at-Thorn, Norwich in December that year, followed by an Edmond there on 21 June 1698, although the 5 year gap seems odd. Interestingly, this parish is around Ber Street in south-east Norwich - next to Carrow and on the way Trowse. The three sons of the earlier Clement Jermy may have been brougt up in this district. We then find Edmond and Anne Jermy, seemingly the same couple, having issue in distant and northerly Brumstead (next to Ingham) from 1699, including later a son Clement which naming would seem to be most significant. Possibly Anne's father had a little property in that area? Or, was there simply an opening for a Maltster in that north-eastern district (this skill possibly learned through an apprenticeship in Norwich following his father's early demise there in 1677; organised by his guardian). In this pre-Georgian era, the average agricultural labourer only rarely acquired training in such skills; they and their sons typically remained at that labouring level well into the Victorian era. Rather, skilled men were more likely to arise amongst those of a more middling status who had fallen on hard times but still had sufficient resources, property and education to cover the costs and requirements of such apprenticeships and run any consequent businesses (or sons of same). The Marlingford remnants would seem to fall exactly into this category, despite the early death of this Edmond's father.

[Note: Since writing the foregoing, I have noted or recalled two seemingly relevant items: 1. The senior line of Jermys - of Gunton (who had owned Marlingford) - also held land in this very area around Stalham (ie in Happing Hundred) from the early 1600s - eg at East Ruston, Hickling, Filby and, further south, in Runham. The brothers Francis and Robert Jermy held East Ruston manor in Happing Hundred in the 1640s and their father left land in Runham in his Will shortly before. The later Jermys of Gunton may have been able to assist their 'cousins' in this regard.
2. One of the daughters (Anne) of Francis Jermy of Haynford (he formerly of Gunton who may have continued to hold such lands after selling the main Gunton estate in 1679 to the Harbords) and Marlingford soon after, married a John Harcourt in 1708 and, besides having a first son Jermy Harcourt in Haynford in 1709 (who would become a Mayor of Norwich and executor of the 1751 Will of William Jermy of Bayfield), had another son there in 1711 whom they named 'Boys' Harcourt. A generation before, an earlier John Harcourt, Gent and wife Elizabeth had a son given this same unusual name - 'Boys Harcourt' - in Brumstead of all places (baptised 15 Aug 1675) and who, dying young, was also buried there - on 14 May 1697. This John Harcourt, possibly father of the younger one of Haynford, was himself later buried in Brumstead as well - on 23 Oct 1717. (As recently learnt from Colin Jermy via researchers of the Harcourt family, his mother was apparently a daughter of the knighted Boys family of Kent, he having married Elizabeth nee Englishe in St Giles, Norwich in 1674.) [We may also note here that the forename Jermy remained with the Harcourt family over 5 generations at least in this area - one shown in Colin Jermy's indexes as being baptised 14 Jan 1804 in Hickling, the son of Jermy and Elizabeth Harcourt (nee Marston )- they having married 16 Oct 1803 in Neatishead (nr Horning). The forename 'Boys' also continued in the family; see below.]

One thus wonders if Edmond Jermy was somehow influenced in settling in this small northerly parish of Brumstead (initially) because of some such connection with this family - ie after Francis Jermy and his mother Ann had sold Marlingford, so leaving any surviving remnants of the family, such as Edmond and brothers without a secure homebase - after residing in Norwich for a time through the 1680s-90s. We may recall that Francis was still in Haynford around this period but had some of his issue baptised then in Norwich, where he seems to have had a townhouse. He may thus have had a more direct influence in helping his now landless 'cousins' settle on any such Jermy lands near Stalham, rather than on any held by the family of Edmond's wife Anne, as suggested above (unless she was a Harcourt herself?].

The fourth (but third surviving) brother Thomas Jermy - likely born around 1676/77 - seems to have been the Thomas who married Margaret Foster in Norwich Cathedral 3 Jan 1698/9 and, like Edmond, also have a son named Clement Jermy after their father - baptised 24 Oct 1703 at St Benedict's. A daughter Mary was born to them as well - at Heigham in 1711 - she later marrying Robert Youngs at St Augustine's in 1734 (referred to in the Will of her cousin Thomas Jermy written in 1761; see below). This youngest Norwich Clement appears to have married at Norwich Cathedral in 1738 to Sarah Getts, widow (but see also discussion below).

An Edmond and Anne Jermy at least did have, as mentioned, early issue baptised in Brumstead (ie Catherine (1699), Elizabeth (1702/3; buried 1703) and Barbara (1704; buried 1704)) and the first of 3 sons named John Jermy in about 1700/01 (baptism details lacking) who was also buried in Brumstead - on 17 Nov 1702. (We may recall that the name Barbara (not that common then) occurs in the Ward family of Bixley; a Catherine Ward was also noted in the Postwick branch of the same family.) The second John was then born to them and baptised on 27 May 1705 in neighbouring Ingham to where they appear to have moved by late 1704 and of where Edmond was later described as being a Maltster. This second John was soon buried there - on Aug 8th that same year. The third given this same name was then baptised in Ingham - on 28 May 1709 but was again soon buried there - on 12 Aug that year. A tentative pedigree may be suggested as follows.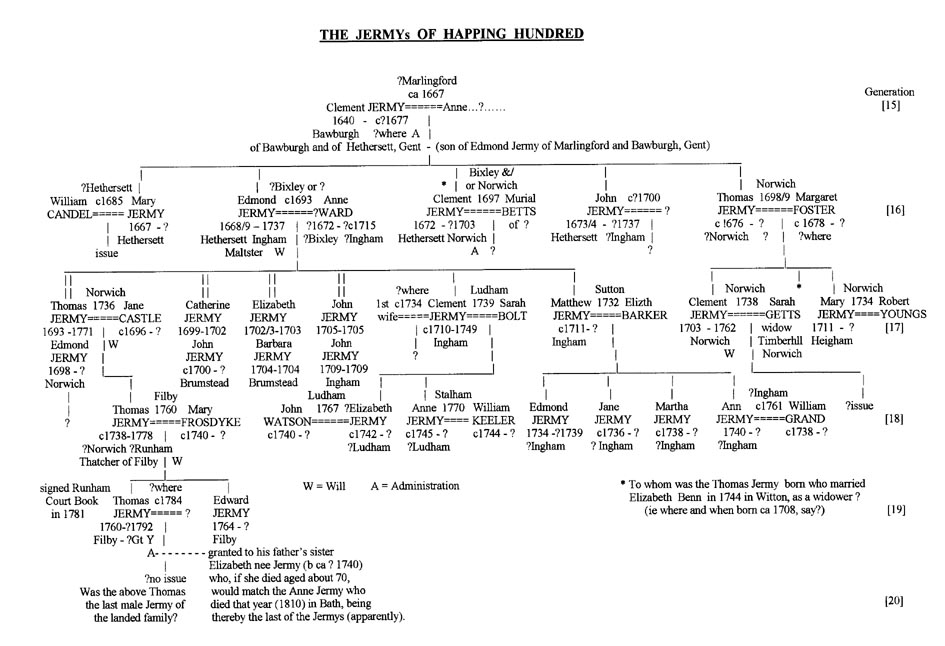 The Ingham registers were unfortunately destroyed by fire in 1801 and the information about this (and other families there) has had to be provided by means of Bishop's and Archdeacon's Transcripts - only available from 1698 - and kindly indexed by local volunteers. Unfortunately (again), however, these Transcripts are incomplete and several events appear to be unrecorded and have had to be estimated from other data, including later marriages, if extant themselves, baptisms and references in Wills. Thus, Edmond and Anne had two further sons (clearly referred to in Edmond's Will later), seemingly born in Ingham, whose baptisms and exact years of birth there are sadly lacking. These were: Clement Jermy (born ca 1710) and Matthew Jermy (born ca 1712). If they married, it would probably be during the 1730s and any issue born over the ensuing decade or so. Such marriages and baptisms, if in Ingham, may also be missing from the Transcripts (if these continued into those decades; this to be confirmed).

We do know that yet another John Jermy died and was buried in Ingham - on 10 Sept 1737. Unless Edmond and Anne had had a 4th child given this name in Ingham (ca 1710-20 say) that was again not shown in the Transcripts, we had previously suggested that he could have been the adult brother of Edmond - born in Hethersett in 1673/4 - and thus then aged about 63 - but no Will is apparent. If so, it could have supported the idea that Edmond's two other brothers (Clement and (possibly) Thomas) may have joined him in or near Ingham as well, although this remains speculation. [No; it now appears that the Hethersett family settled partly in Norwich and partly in Ingham. Moreover, at their father's early death in 1677, his Administration named only the three surviving sons as Edmond, Clement and Thomas; John would seem to have died young.] In any case, Edmond himself died just a few weeks after this John Jermy, again in Ingham - being buried there on 25 Dec that same year (1737) - having left a Will written 8th Oct and proved 30 Dec, 1737 (Archd of Norfolk). In it, he is described as a Maltster of Ingham. He leaves property to all three of his sons - Thomas, Clement and Matthew but sadly to no other possible living members of his family, as brothers, daughters or his then wife. (It is possible he was married secondly to a Susannah Bream in Yarmouth 31 Oct 1716, but there is no proof at all that it was this same Edmond Jermy.)

To his son Thomas and his heirs, he left £50 cash as well as two or more houses with lands which he had recently purchased from the Rev Thomas Lord - situated in Ingham, Hickling and Sutton. He also left Thomas, the Swan Alehouse in Ingham. To his son Clement, Edmond left a house in Ingham called 'Myhills' for life, and then to Clement's children but if none of these children were (?still) living at said Clement's own death, then to his other son Matthew and his heirs forever. This would seem to imply that Clement had by that date married and had issue - when he'd be about 30. [If so, then his apparent marriage to Sarah Bolt in Ludham two years hence (see below) would have been a second one presumably (or even a third one if he had first married Sarah Getts in Norwich but this may well have involved the other Clement instead (born 1703 to Thomas in Norwich). To Matthew and heirs, he left another house in Ingham (recently purchased) and 3 acres, and possibly a second house in which Edmond then lived, with adjoining Shop, Malthouse and stables. Matthew was named as Edmond's executor and was to get all his personal effects, although wearing apparel was to go to son Clement.

The map below shows the position of the Happing Hundred in relation to other areas of east Norfolk which have relevance to other members of the wider Jermy/Jermyn/Jermany families settled nearby. The map has been drawn to show the effect that the extensive areas of broads and marshland in the 18th century (associated with the major rivers systems draining this part of Norfolk to the east) had on the distibution of villages into relatively isolated clusters on the higher ground. This effectively produced a series of 'islets' and peninsulas although this feature is less evident today. The rivers themselves have been left out of the drawing to better emphasise this former feature of the landscape. If global warming produces the flooding of lowland Britain that is predicted, this area will likely become an inland lake or sea.

[An A. Jermy married J. Buckenham in the marshland parish of Halvergate (not far from Runham) on 19 May 1730; I believe I identified this bride sometime ago as an Anne and the groom as John) but have mislaid the notes. They also married in Norwich that same day. Other uncertain entries are the burials in Happisburgh (in Happing Hundred) of a Margaret Jermy on 19 Jan ?1664 and a Mary Jarmy on 3 July 1728. The former event seems most atypical and should be checked out further.]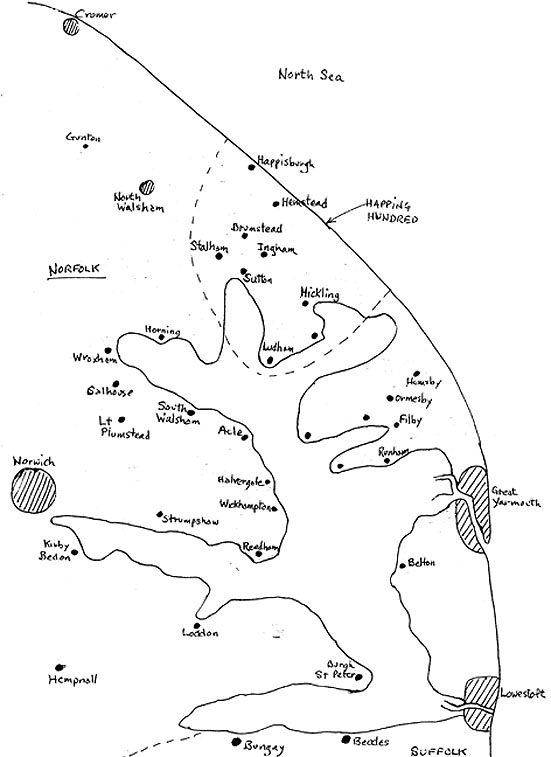 As mentioned, it appears that Edmond's eldest son Clement Jermy was unlikely to be the one who married Sarah Getts in Jan 1738 at Norwich Cathedral but rather to be the Clement who married more locally - in Ludham - on 29 Aug 1739 to a Sarah Bolt (and possibly earlier to a first wife) and to be the one who was subsequently buried in Ingham on 19 Mar 1749 (no age shown) and for whom no Will is apparent. The other Clement, who resided in Norwich (son of Edmond's brother Thomas), seems more likely the one who married Sarah Getts; he died in 1762 - leaving a Will proved July 6th that year (Dean & Chpt Court), being described then as a Victualler of St Paul's, Norwich, although of nearby St Augustine, I believe, when he wrote it on 26 Oct 1756. However, in it, he refers to an in-law relative of his 'brother' Matthew Jermy - namely a Susannah Grand, sister of William Grand who married Matthew's daughter Anne. In his Will, which he signed, he leaves all his estate, both personal and real, to two trustees - Thomas Harvey, Esq and William Waller, Gent - both of Norwich, they to sell all his property in St Paul's, St Edmond's and elsewhere (with no reference to the Ingham area) with all proceeds to go to this daughter-in-law Susannah Grand and her children. While he may have married as suggested above, it thus appears that he had neither wife nor children by 1756. One is tempted to believe that this Clement used the term 'brother' as was sometimes the case at that time, when there was simply a relationship through marriage. Otherwise, one would have to 'cross-over' the two Clements completely as between the Ingham and Norwich domiciles, etc.
There was also an Elizabeth Jermy who married in Ludham - but in the next generation - on 23 Dec 1767 (to a John Watson); she could reasonably be Thomas's, Clement's or Matthew's daughter. An Ann Jermy married William Keeler in Stalham on 11 Oct 1770; if a spinster, her father is also uncertain but may well have been Clement Jermy of Ingham. Either of these girls could prove to be the last of the Jermy family so born; one will try to determine their paternity and when they died.
The youngest brother (seemingly), Matthew Jermy, described as formerly of Ingham, married Elizabeth Barker at Sutton (nr Ingham) on 1 Sept 1732 - by licence (which he signed) - and by whom he had the three daughters mentioned above, as well as others. The daughter Ann was baptised in Ingham on 14 Sept 1740 - after they'd had a son - yet another Edmond Jermy baptised there on 17 Dec 1734 (possibly buried 30 Oct 1739 as ?Edward, although there was an Edmond who had a son of this same name baptised in North Walsham in 1756 (see below), but as 'Germany') and a daughter Elizabeth Jermy in Ingham on 10 Oct 1737. She may have been the one who married John Watson in 1767 in Ludham - unless this was Clement's daughter? I could see no baptisms for the other two daughters mentioned - Jane or Martha (due probably to those missing Transcripts), nor for any other sons; one named Matthew may have been expected. A Matthew Jermy (not a common name then) married, as a widower, a Susan Wheal, widow in Gt Yarmouth in 1757. There were no Jermy marriages shown in the Ingham register.
-- -- -- -- -- --
Might a son from any of these cousin lines have survived and reproduced? Where? More searching is clearly needed in regard to this family (but see now below). We note that an Edmond Germany (likely born ca 1730s) and wife Catherine had a son Edmond baptised in nearby North Walsham on 12 June 1756, while a John Jermy (born ca ?1732) and wife Martha had a son John baptised there 12 June 1757. And just before the former event, Francis Jermy, the then elderly Attorney of the now dispersed Gunton family, was buried there - on 10 May 1756. The origin and futures of the former two men is unknown but intriguing.
It was previously thought that the youngest son mentioned by Edmond in his Will was probably Thomas Jermy, thought originally to be born about 1713. However, a Thomas Jermy, Woolcomber of Cathedral Precincts, Norwich who married Jane Castle/Cawtell at St James Pockthorpe, Norwich on 23 Dec 1736 and shown then as aged 40 (in a marriage licence/bond application), turns out to be Edmond's eldest surviving son (as revealed in this Thomas's Will, shown below) - and so born in the 1690s (ages on marriage licence applications are often estmates and may have implied 40+). He would thus appear to be the Thomas born to Edmond and Ann in St Michael-at-Thorn, Norwich in 1693, or even a second Thomas born to them nearby a little later (ca 1696, say), if the first one died. For he left a Will as 'Thomas Jermy of the City of Norwich, Woolcomber' which he signed with his mark 11 July 1761 (with Codicil signed similarly 12 Dec 1770) and later proved in the Dean & Chapter Court - on 15 June 1771. In it, he leaves all his property in Ingham and elsewhere in Norfolk and also in Norwich to 'Thomas Jermy of Filby, Norfolk, Thatcher and to his heirs', after certain conditions are met. He also leaves this Thomas all his personal estate and appoints him his sole executor.
The conditions include the payment of £30 a year to his wife Jane for her lifetime (and £10 immediately) as well as a single payment of £25 to Thomas the Thatcher's brother Daniel Jermy, Mariner - providing that he comes to him and requests same; otherwise that legacy becomes void. And to Elizabeth Jermy, the sister of Thomas and Daniel, he leaves £20, as he does also 'to Jane and Martha Jermy, daughters of my brother Matthew Jermy' - to be paid after the decease of my wife Jane as each becomes 21'. This reference to Matthew as his brother (and to land in Ingham) would seem to establish this Thomas's identity and, importantly, to the fact that Thomas Jermy of Filby and Runham (and his son: see below) are of this same family. It is noteworthy however that he never refers to his executor, Thomas Jermy or the latter's siblings, as his own children; he and Jane may thus have been childless and yet, it seems most odd that he doesn't identify his relationship with these three siblings (one his executor) - ie as either his own children or as...'the sons and daughter of my....' (whomever), even though he does so in every other case. Was he actually estranged from them to some extent and couldn't bring himself to refer to them so explicitly as his own sons or daughter?? The direction to Daniel Jermy to ?face his brother Thomas in person would seem to smack of the kind of control only a parent would demand. (Note: Daniel not yet shown in pedigree.) Finally, he refers to another 'daughter of my brother Matthew - Anne - now the wife of William Grand', to whom he leaves 3 shillings a week for her lifetime, and he also leaves £5 to Mary Youngs, 'daughter of my uncle Thomas Jermy, deceased'. In his Codicil of almost 10 years later, he refers to £200 he is owed by one Jehosaphat Postle (one of the Will's witnesses) whom he asks to continue to hold same but to give the annual interest to his wife Jane for life and then that capital amount to Thomas Jermy, his executor - who proved the Will in 1771.
The reference by the foregoing testator Thomas to his uncle of that same name confirms the expectation that his father Edmond did indeed have a (younger) brother Thomas - probably born ca 1676, as estimated (and now also confirmed by the reference in his father's Administration), who apparently married Margaret Foster in 1699 and had at least a daughter Mary (in 1711) - who married Robert Youngs in 1734. We know that Thomas the Woolcomber was left land by his father at Sutton and Hickling in 1737, the latter thus extending Jermy relevance increasingly towards Ludham, Filby and Runham, which now appears to be significant. He could well be the father of Thomas Jermy, Thatcher of Filby - born about 1738 - who married (a Mary) and had son Thomas Jermy Jnr in Filby or Runham around 1760, say. We may recall that it was not long after this when Thomas the Woolcomber decided to write his Will in Norwich. Otherwise, he would almost certainly be a nephew - but in which case, why would he not so describe him? [A Thomas Jermy, widower, married in Witton (which abuts Happing Hundred) in 1744 - to an Elizabeth Benn. He would likely be born around 1710-15 and as he wasn't the Thomas born to Edmond about that time, he may have been born to Edmond's younger brother Clement; could he in turn have been the father of Thomas the Thatcher? Other uncertain marriages in this area included a Sarah Jermy who married Nicholas Pull in Ingham in 1750, an Ann Jermy who married William Keeler in Stalham in 1770 (as mentioned above) and another Sarah Jermy,who married Thomas Burton in Walcott in 1782. There is also the Robert Jermy (born ca 1750; ?Langley) and wife Susanna who had issue Elizabeth, Esther and Thomas (as Jarmy and Jerminy) in Worstead in the 1760s/70s.
Thomas Jermy of Runham, Thatcher (previously 'of Filby', I believe) wrote his Will on 19 Nov 1777 (but signed it on 6 Dec that year) in which he refers only to his then wife Mary and son Thomas Jermy - to whom he leaves all his property 'in both Norwich and Norfolk' (which we now know he inherited in part from Thomas the Woolcomber, seemingly his father (or, less liley, uncle?). His wife Mary was to get her share for life unless she re-married in which case Thomas would get it all but would have to provide his mother with £40 a year for life. This would certainly indicate adequate rental income was expected to continue and that this family were relatively well off. While he too signed the Will with his mark, he would be the Thomas Jermy of Runham (and/or Filby?) listed in a Poll Book - for 1768 - and, as the Will was proved on 15 Dec 1778, it would very likely be his son, the Thomas JermyJnr , who later signed the Manor Court book for Runham - in 1781 - with his signature, indicating some literacy and a position in this albeit isolated marshland parish where, sadly, no other Jermy references occur in that church register at least. If Thomas the Thatcher died young, aged around 41 say (and so born about 1738), he could well be the son of the Thomas Jermy (born ca 1696) who married in 1736 and died in 1771) who was left property in Ingham, Hickling and Sutton by his father Edmond in late 1737. (And thus less likely to be a son of the Thomas Jermy who married in Witton as a widower, in 1744.) If Thomas the Thatcher married his wife Mary around 1759, his son Thomas would be born about 1760 as suggested above (but where?) and thus be 21 when he signed the Runham Court Book in 1781. [Yes; he married Mary Frosdyke ca ?Feb 1760 and their first born (Thomas) was baptised in Filby later that year - on 29 Aug 1760. They apparently also had a second son, ?Edward (or Edmond?) Jermy, baptised there in June 1764; this to be confirmed; his survival and future are presently unknown. He was, however, not mentioned in his father's Will in 1777.] The Runham and Filby Court books can be checked for any other Jermy references.
In any case, this younger Thomas Jermy (born 1760) would seem to be the last male of this particular line of the family (or even of the entire family?) of whom we have some meagre data at least. [There is a possibility that his uncle Daniel Jermy may have survived him, but his whereabouts, if still living after ca 1800, is unknown.] Did Thomas have any issue himself who might, not unreasonably, have spread further into marshland, say - if not eastwards towards Gt Yarmouth (an understandable near attraction)? The Gt Yarmouth possibility could relate to an Administration (vs a Will) noted for a Thomas Jermy of that town dated 23 July 1792 (Archd of Norwich); this has now been examined. Sadly, it doesn't give his occupation nor the name of a wife (eg who may have been his administrator). Rather, his estate was to be administered by his aunt and next of kin, one Elizabeth Kean, who was obliged by means of an £800 Bond put up jointly by her husband Augustine Kean, and Jacob Preston, to provide an Inventory of Thomas's estate and to administer same within a year, or the Bond money would be forfeited. (We shall seek the actual date of burial of Thomas Jermy ca May 1792, seemingly in Gt Yarmouth.) More information was forthcoming from the contemporary Administration (28 Sept 1792) in the name of one Samuel Jay Jnr of Gt Yarmouth, bachelor, the son of a Samuel Jay Snr - significantly of Filby - who was indebted to Thomas Jermy of Gt Yarmouth, also a bachelor who, like the younger Samuel Jay, had died intestate himself shortly before, so the money was now due to Thomas' next of kin, Elizabeth Kean - she described therein as the aunt of Thomas by his father (ie the latter's sister, presumably). We may recall that Thomas the Woolcomber left £20 to Elizabeth Jermy, sister of Thomas Jermy the Runham Thatcher (and to her brother Daniel). One will seek evidence/confirmation that it was this Elizabeth Jermy who married Augustine Kean - presumably by the 1770s, say (if born in the 1740s). [The administration of the younger Samuel Jay's estate was earlier declined by one John Jay, also of Filby, Farmer (likely Samuel's uncle). It was also subsequently taken on by Elizabeth's husband, now shown as being a Yeoman of Gorleston (and hence one could now seek evidence about Elizabeth there), and Jacob Preston of Yarmouth, Gent (member of one of the more influential families of Yarmouth).
[It was thereby discovered that Elizabeth, who made her mark, had indeed married Augustine Keen (sic) - in Gorleston, on 2 Nov 1777 - but not as Elizabeth Jermy, but as 'Elizabeth Soames, widow'; Augustine was then a widower himself. (Details of her first marriage to Soames (in eg ?Filby, ?Runham, ?Norwich or ?Yarmouth) will be sought.) Interestingly, the Vicar at Gorleston at that time was the Rev Sir John Castleton, Bt (descendent of the earlier baronetted Castletons) who died there just the next week. (Much later, a Boys Harcourt was buried in Gorleston in Feb 1821, aged 75 (born 1745); he would no doubt be a relative of the Harcourts referred to earlier. And a Jane Jermy 'of Gorleston' was also buried there - in July 1828, aged 80 (born 1748 but where and to whom? The name Jane was in the Norwich/Haping family); it didn't say if she was single or not.) In 1777, Elizabeth was still young enough to have had (?further) issue although none was noted in the Gorleston register over the next 10 years. Nor was the burial of either partner found there. Possibly on the strength of any money received from Thomas's estate in 1792, when they were still described as being of Gorleston, they moved to Yarmouth or nearby? An Elizabeth Keene married a John Williams on 26 Feb 1799 in Gt Yarmouth. Could she be the same lady (as a widow for the 2nd time), or possibly a namesake daughter? An Administration was noted for an Elizabeth Williams (of...?) in 1800 (Norw Archd A 40; not yet seen but possibly in Yarmouth.) We may presume that Elizabeth's brother Daniel had died before 1792 (as she was named as his next of kin that year). But he may have been the younger sibling and/or living somewhere unknown overseas or 'at sea' and thus ignored. If so, one would like to know if he had survived and had any male issue?
-- -- -- -- -- --
A new pedigree and map would be helpful for this rather isolated north-eastern/marshland offshoot of the Jermy family of Happing Hundred - with some settled earlier in Norwich and later in Yarmouth. [These have now been added; but the pedigree still needs some additions/alterations.] Before leaving them however, we may point out that, strangely, the very year 1781 (in regard to a possible last (or now 'near last') reference to a Jermy of the ancient landed family - as one signing the Runham Court Book that year) - will be heard of again in regard to this very same year, but concerning a different individual - in the last section of our Jermy saga. [We may have to abandon this poetic symmetry if we find that the Yarmouth Thomas extends the family at least to 1792; but, can we never make it into the 1800s? Possibly his aunt made it?] We may note also that some of these north Norfolk Jermys, holding small pockets of land and a few dwellings, appear to be contemporary with the nearby John Jermy of Gt Yarmouth (d. 1768?) who has heretofore been considered the sole survivor of the family in Norfolk by this date; this may now be not quite the case. If so, did these two families know of each other? And, with a Jermy father (Edmond) who left a Will with some minor properties in the mid-1700s, who had at least three sons who appear to have married and had issue, can we not reasonably expect there to be several future male Jermys (or even just one or two) to carry on the family well into the 1800s? Where are they? Or, as elsewhere, must that small 'Y' chromosome inevitably fizzle out by the 18th or 19th generations in every single branch of this ancient family of (true) Jermys?? Why didn't/couldn't the Yarmouth Thomas for example marry ar least by the age of 32, like most men, and have issue ??
-- -- -- -- -- --
[An Edmond Jermy (born ca ?1775), Yeoman of Lakenham, near Norwich, wrote his Will in 1829 (proved 1832 in Dean & Chapter Court) making reference to the dispersal of much small property in Lakenham to his children Thomas, James and William Jermy and daughters Ann, Hannah and Harriet. The son Thomas Jermy was a Gardener of this same parish and wrote his own very long Will soon after this (in 1836; proved 1837) leaving much of the same property to his sons George, James and Edmond John Jermy. I do not know from where this family descends. There were other Edmond Jermy/Jermyns spreading out from Saxlingham Nethergate and Hempnall earlier the previous century. There was also a Robert Jermy with small estates in neighbouring Trowse and Caister which he left by his Will of 1729 to his wife Ann (nee Burgess) for life and then to their children Robert and Sarah Jermy. Shortly after, his wife Ann by her own Will left an additional £80 to the unborn child she was expecting when her husband Robert died that year - to provide him or her with funds eventually to purchase tools for what appears to have been the family business of Felmongering. That Will wasn't proved until 1750. It is just possible that the above Edmond may have descended from this family. We may recall that Clement Jermy Jnr of the Marlingford family (possibly died 1703) lived in Trowse ca 1700 - seemingly as a coincidence.]
[The foregoing section last updated: 20-09-04
The Other Landed Jermy Families of North Norfolk
Having considered the Jermys of Marlingford and their possible off-shoots in Norwich and Happing Hundred etc, we may now return to the two Major branches of the Norfolk Jermys descended from brothers Francis and Robert Jermy - born close to one another at the beginning of the troublesome 17th century. Their parents were John Jermy, Esq, Barrister of Norwich, and his wife Eleanor, a distent cousin from the Stutton line of Jermys in Suffolk. After returning from a successful career in London, John seems to have obtained his useful position with the Diocese of Norwich - as their chief lawyer or Counsellor and resided in Norwich - from about 1585. As early as 1588/9, he was involved in legal cases in north Norfolk and advising on Dutchy of Lancaster cases there for Sir Francis Walsingham. He may also have held the position of Steward for the Dean and Chapter of Norwich, among others, around this time. Within a few years, in anticipation of his retirement, he was able to purchase the freehold of at least 4 major estates - those at Gunton and Bayfield in the north of the county, at Marlingford in mid-Norfolk and at Tivetshall (in the south). As mentioned, he may have owned Saxlingham as well (ie over and above the several nearby parishes into which the Bayfield estate extended - seemingly as an independent entity). But there were apparently other Jermys in this mid-northern district before this - which we may briefly consider first: