Part 3 (E).

THE EARLY JERMYs OF SUFFOLK

As mentioned, the elder son of John Jermy, latterly of Buckenham Ferry, Norfolk, was Sir John Jermy - born about 1440 - who married Isobelle Hopton of Blythburgh about 1465. They appear to have remained at nearby Metfield and, as the senior family of Jermys then in Suffolk, would have the benefit of income earned from this and their many other properties in Suffolk, and probably several in Norfolk as well (eg at Sprowston where, as late as 1499, this John is named in an Inq PM for one John Bisshopp as the owner of land rented by the latter man in Catton (on the north edge of Norwich) - being one of many properties of his 'Manor of Sprowston'). He also held that year a part of an estate at Honing and Worstead in Norfolk - in conjunction with his younger brother Thomas. Worstead appears to have gone later to Thomas's son Robert Jermy (see below). Sir John also acquired a small estate at Wissett (near Metfield) through his wife - which would prove useful to a much later Francis Jermy, also a younger son. The manor at Wissett is mentioned in a Roll of 1479 as coming to John Jermy(n) the younger - by the Will of John Hopton,Esq, late of Yoxford, Suffolk.

Sir John's first son was Edmond Jermy, Esq born about 1467. This name choice breaks with tradition for some reason. The second son received the more usual name of John Jermy - born ca 1470 - followed by third son James Jermy around 1475, say - another atypical name in the family. There were two or three daughters born amongst the foregoing sons - the exact years and order unknown. Thus, reference is made by James in his Will of 1518 to 'my sisters Margaret and Elizabeth', as well as to an Anne Jermy, although the latter could well be his sister-in-law - then widow of his eldest brother Edmond, who had apparentky died in 1506. Some pedigrees (eg Blomefield) show a daughter Thomasine also (who would be born around 1465-75) who is shown to have married John Brampton of Brampton (seemingly Brampton, Norfolk) - possibly around 1490. She must have died well before 1519. Her husband re-married Anne Brome (c?1500) whose sister Mary Brome - of Blo' Norton, Norfolk - married John Jermy, son of Thomas Jermy of the Norfolk side of the family, around that same time. One does wonder, therefore, if Thomasine may in fact have been a daughter of this Thomas Jermy rather than of his brother Sir John? This need clarifying but I tend to accept a Norfolk origin for Thomasine (about whom see later).

All these children were born and raised during the middle to latter years of the War of the Roses. This concerned the succession of the monarchy and the lives of those relatively few families of the aristocracy who supported one side or the other; its many battles and skirmishes apparently didn't impinge that much on the daily lives of the general population, even the gentry, particularly in East Anglia. If the local magnates were required to take certain sides in this conflict, it is possible that knights such as Sir John Jermy may have been drawn into it but we seem to have no facts in this regard. He died in January 1504/5 and is buried at Metfield with a Brass memorial on his monument slab in the Sanctuary of the chancel. This was just two years before the death of his eldest son Edmond who had married Anne Booth, daughter of William Booth of Shrubland Hall, Suffolk (near Coddenham) in about 1495. They had at least one son - another Sir John Jermy (and possibly a son ?William Jermy a little later). Edmond's brother John seems to have married about the same time - to a Jane Russell, daughter of one Henry Russell, and he too may have had a son ?William Jermy (although one named John would seem more appropriate). In any case, a William Jermy of that next generation, apparently born to one or other of these brothers, is shown in certain pedigrees as marrying a girl of surname Randall (father uncertain) - probably around 1525 - and having in turn a son John Jermy about 1528. (One wonders whether Edmond's son Sir John may in fact have been the father of this latter John (his elder son having been named Francis). More evidence is needed here. There was also a Jermy daughter born about this time, into one or other family, who married a Goodwyn (with property in Lt Stonham nr Coddenham) and had a son named 'Jermy Goodwyn'. As a Gent of Norwich, he left a Will in 1612, with an Edward Goodwyn as witness.

Edmond Jermy died 30 Sept 1506 and his Will proved (NCC) in 1507 directed to be buried at Metfield (although I assumed he had lived at Coddenham). He left all his manor lands in Norfolk and Suffolk to his 'son and heir John, when he becomes of full age'. His wife Anne was to have all his 'moveable goods' and his daughters the income of a manor whose name was not decipherable. Edmond seems to have had friends in high places as he was named as an executor of the Will of the wife of Thomas Howard, Duke of Norfolk - Elizabeth (nee Tilney) - who had married in 1487, she the widow of Sir Humphrey Bourchier. However, Edmond died a few weeks before her, so couldn't fulfil this role. His son and heir John Jermy was, as mentioned, then underage (to inherit) so his wardship was taken on by this local Duke (who apparently had such rights and/or responsibilities).

The third son James Jermy, Esq who had his own estate at Earl Soham, died 1 March 1519 and is buried in the church there. In his Will, he refers to several other properties as in Stowmarket, etc and it is noteworthy that he leaves something to the children of his 'uncle Thomas'. This indicates that there was still some contact between the Suffolk and Norfolk branches of the family at this date. He also leaves something to the Clerk at Metfield. Sadly, he makes no reference to a brother John nor to an apparent nephew William. We may assume that second son John would have been as well placed as James, but we have little information on him or his progeny - if any. The presently discussed Suffolk Jermys are shown below in relation to their early Norfolk cousins.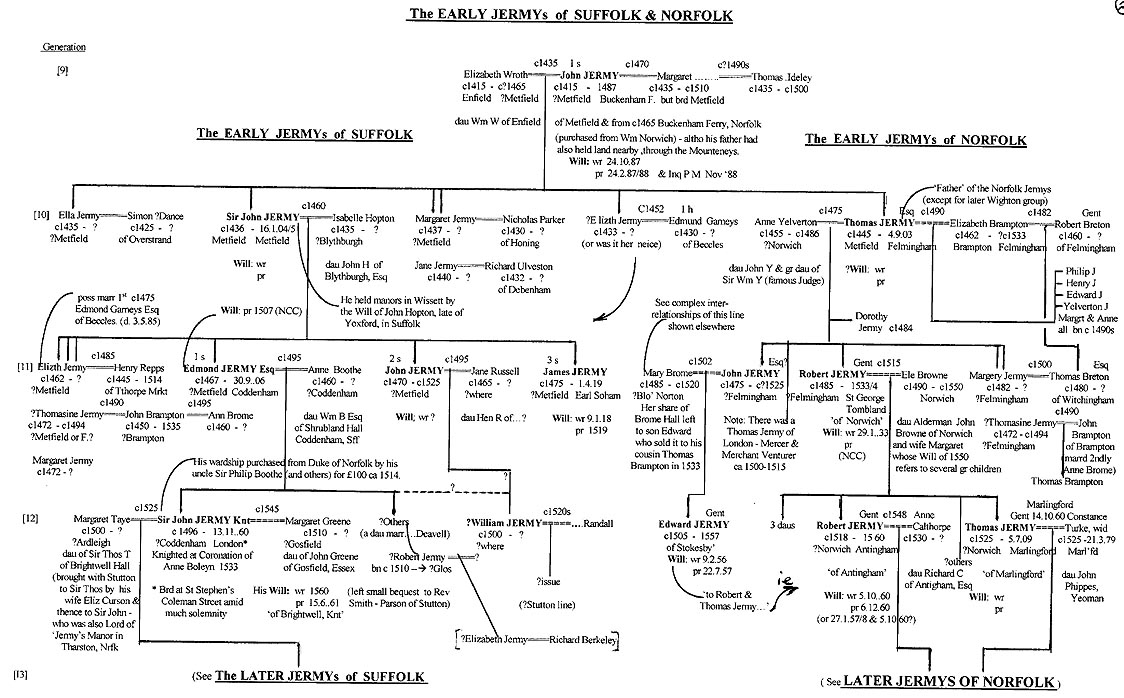 Suffolk Jermys of the 1500s.
Edmond's elder son (possibly his only one) was the later knighted Sir John Jermy - born around 1498 (as estimated) as his wardship was later purchased from Thomas, Duke of Norfolk by his maternal uncle Sir Philip Boothe and others in 1512, when still a minor. Any second son William would thus be born about 1500-02, say, but no wardship details have emerged in his case - possibly as he wasn't the elder son. (Sir) John married Margaret Tay, the eldest daughter of Sir Thomas Tay of an ancient family in south Suffolk (also spelt Taye and Teye). It is probably through this marriage, around 1525 (before he was knighted in 1533 at the Coronation of Anne Bolyne) - that both the Brightwell and Stutton estates in this region came into the Jermy domain (if not a little earlier). The following map of the area south-east of Ipswich shows several places of relevance to the early Suffolk Jermys there - such as Brightwell, Stutton, Newbourne, Nacton, Martlesham and Trimley. Capel St Mary is just to the west. Families such as the Tays, Lampets and Cursons were inter-married with each other and with the Jermys in this area at the time - resulting in a complex of family relationships and property ownership in the region for several generations.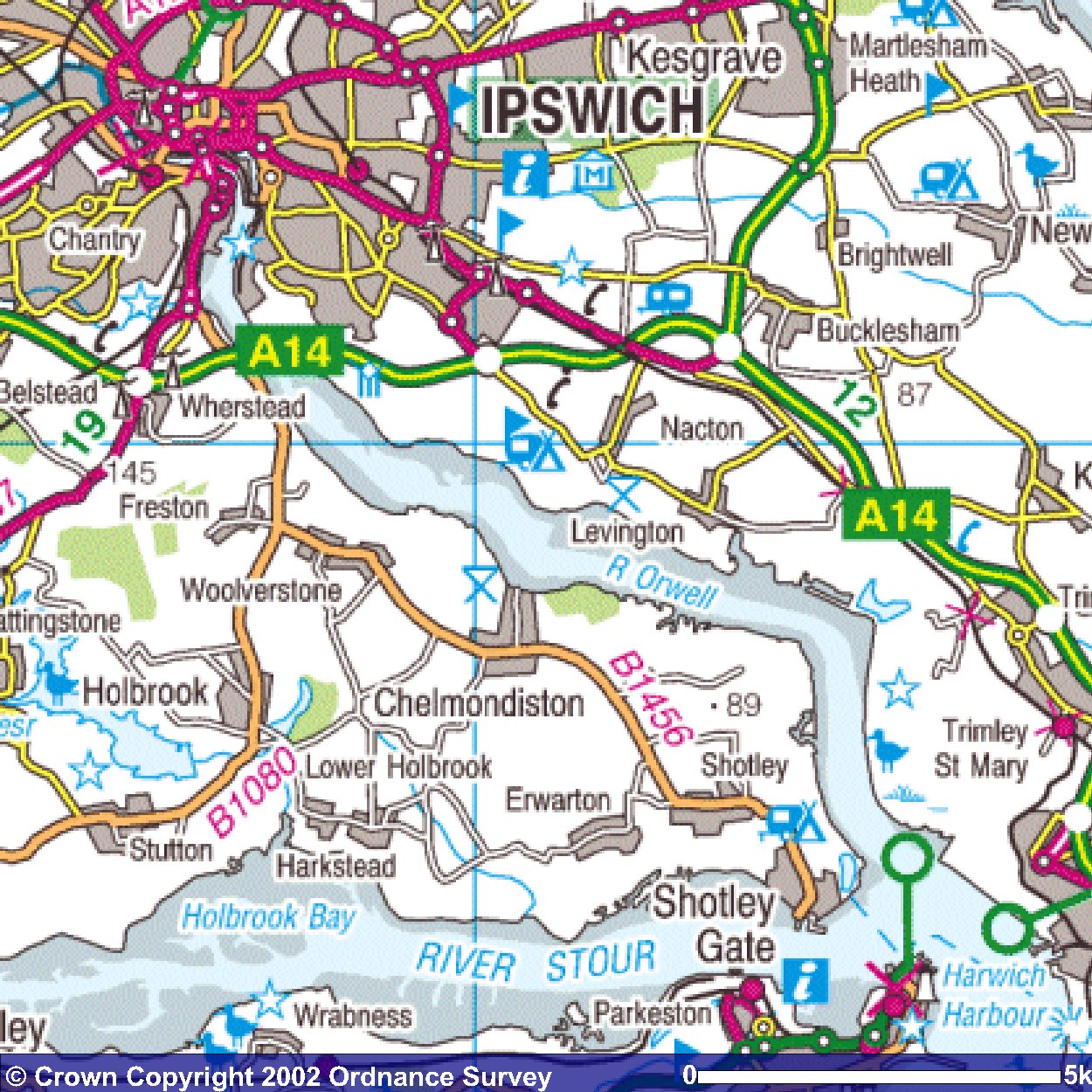 Image produced from the Ordnance Survey Get-a-map service and
reproduced with kind permission of Ordnance Survey.
Sir John Jermy and his Lady Margaret had 4 sons and three daughters in the 1520s and '30s - ie in the early years of the reign of Henry VIII. The eldest son Francis Jermy (born ca 1525) would settle at Brightwell, as had his father. Again, Metfield seems to have been rented out or occupied by younger sons at this time. Sir John died in Nov 1560 - well into Elizabeth's reign and had a noteworthy funeral at St Stephen's church, Coleman Street, City of London - where he likely had a London dwelling. At his funeral, he was described as being then '80 years old (ie as 'iiij xx) and more...'. One wonders if this should in fact have read 'iii xx and more' - ie about 63, say? In the papers of the Camden Society, a Diary entry by one Henry Machyn (MB Acc 8113, p 244) provides a useful description of this event:
"The 13th day of November was beryed in St Stephens, Colmanstrett, Sir John Jermy, Knyght of Suffolke - beyond Epswyche 4 mylles, the whych was a good man of the age of iiij xx and ode (years) who left 4 sunes and 3 dowthers. He had a standard and a pennon of armes and coatt of armour, elmett, target and sword and mantyll, and 3 dosen of skochyons and alf a dosen of bokeram. And the chyrche was hangyd with blake and wyth armes. And there were mony morners and gohyng to the chyrche a mornar beyring the standard in blake, and anodur a pennon of armes, and then sartain mornars. Then cam Master Somersett the harold beyring the elme and crest, and after hym cam Master Clarenshux beyring hys cote armur and then cam the corpse with a palle of blake velvettt with akochyons on yt and then cam the cheiff morners, and after hys servandes in blake. Master Mollens the archdeacon did pryche..."
It had taken me some time to conclude that an initially unknown 'John Jermy of Sprowston', Norfolk, who was in litigation in 1522 with the Prior of Norwich for felling large trees in the latter's domain (with which he had built himself a large mansion house in Sprowston) and was later himself a plaintiff, in 1528, against some locals - whom he charged with assault - was in fact later this rather grand knighted squire of Suffolk - the senior member of the Jermy family. It implied that, as suggested, the recently established 'Jermys of Norfolk' never held this considerable Norfolk knight's fee - albeit not that far from their rather more modest holdings in Felmingham and Antingham (plus a little in Norwich later). In 1545, Sir John and Margaret sold the Sprowston estate (including Mounteney's Manor) to Sir John Corbett, a local man. It seems to have been in the family from the time of their marriage with the Mounteneys earlier in the 1400s. Sir John married secondly Margaret Green of Essex in about 1550 (estimated). His Will, written not long before he died (late 1560), was proved in June 1561 (PCC). Amazingly, a Calendar of Suffolk Wills proved at the PCC (the usual Court for gentry Wills) between 1383 and 1604 shows only this one for any Jermy. [Note: an Admon(?) for his son John Jermy of Brightwell, Esq was granted by the PCC in 1604.] Others may have been proved at Norwich, Bury or Ipswich of course. And some lived in London. But many continued to reside latterly in Suffolk, including hie slder son Francis Jermy - as discussed in the next section.
To The Later Jermys of Suffolk