THE MILLMANS OF PRINCE EDWARD ISLAND
Introduction
An Internet search for the surname Millman revealed, amongst other items, a five-part account of a highly respected member of the Anglican church of Canada - one Rev Doctor Thomas Reagh Millman (1905-1996). It was compiled in 1998 by Mrs Ruth Paynter of Burlington, Prince Edward Island as a tribute to a distinguished member of a family long settled as neighbours to her own family there. It includes contributions from others who knew Rev Millman, as well as accounts of a local landmark - 'the Millman Road' - by both Ruth Paynter and Rev Millman himself.
Besides her knowledge of Rev Millman and his immediate family that she knew or was told about, Mrs Paynter had access to material about his family's history in an article called 'Family Sketches' (ca 1980s) and from a parish history (1959) - both written by Rev Millman, an avid historian. The cover of the latter book - 'A History of the Parish of New London' - shows a picture of the early church there as well as of a husband and wife and their two children (one seemingly a baby) on a boat. This appears to represent or at least symbolize the first of his Millman ancestors to arrive in Prince Edward Island. Mrs Paynter's article on the Millman Road reveals this man to have been one John Milman, who arrived with his family in 1821 - from Paignton in Devonshire, England. By about 1823, they had leased 147 acres (Lot 20) in the Burlington-Irish Town area of New London. John Millman (as he later spelt his name) died in 1846 and his land was left to his sons whose progeny, including Rev Millman, remained in the area well into the 20th century.
As I had for some years researched my own Millman origins in Devon, which included considerable familiarity with the Milmans of Paignton (see elsewhere on this website), I was naturally very interested in seeking to place this John Milman into one of my relevant family trees/pedigrees. When I first read the article, I had not long resolved a mystery concerning one probable member of the Paignton family - namely a Thomas Milman (as they typically spelt the name then) whose existence I had difficulty in verifying; his father, also a Thomas, had a large family in Paignton, including several sons, yet none appeared to have been baptised as Thomas there. But eventually, I discovered a Mariner named Thomas Milman serving an a ship called the Unity sailing out of Brixham nearby - in 1796, aged 33. Significantly, he was said to be born in Paignton (ie around 1763). But there was no baptismal evidence for Paignton ca 1760-65 to this effect. I had also checked all nearby parishes, both those covered and not covered by the IGI. However, I had found a marriage between a Thomas Milman and an Ann May in Paignton in 1786 and two sons born apparently to them there. This was promising. Also, after his presence at sea (in PRO records) ceased in about 1797, I found a burial for a Thomas Milman in the neighbouring port of Dartmouth for 1798.
Later, the Devon Record Office pointed out to me that one of the nearby 'parishes' - actually a neighbouring 'chapelry' called Marldon - was covered by the IGI up to 1750 only. I quickly re-checked its actual register for the 1760/70s and finally found the baptism there of this missing Thomas Milman, dated 28 May 1762, and, importantly, born to Thomas Milman Snr and wife Mary (seemingly nee Churchward) - of Paignton. After his marriage in 1786, this younger Thomas had a son John Milman in 1788 and another called Daniel in 1791 - both born in Paignton. As he was often away at sea, he and Ann appear to have had no others before his early death in 1798. In 1814, the older boy John Milman married Elizabeth Madge in Paignton. Because there were originally six sons born in Paignton to an earlier Thomas Milman, each of whom named sons Thomas, John, Francis and William, there were eventually several Milman males locally with all of these names - some of overlapping generations. But it soon became apparent that the John born in 1788 was born to the sea-going Thomas Jnr who was baptised in Marldon in 1762 - and his wife Ann (nee May).
But which John Milman was it who emigrated to Prince Edward Island ? The son John of our now verified Thomas was about the right age, but there were other Johns about. However, it turned out that one of John's sons (born in 1821) - was named Walter Madge Milman - who turns up in the records of Burlington, PEI. He would have been an infant when they arrived there, along with an older sister Jane. Once in Burlington, they had three other sons - Thomas in 1824, Frederick in 1828 (of whom I only later learned; see below) and John in 1832. It would have been these 4 Millman brothers (as the name was now spelt in the 'new country') - Walter, Thomas, Frederick and John - who each inherited a share of their father original acreage in 1846. Their subsequent family lines are show in the pedigrees below which, while an improvement on an earlier version, will no doubt benefit from further additions as more data becomes available.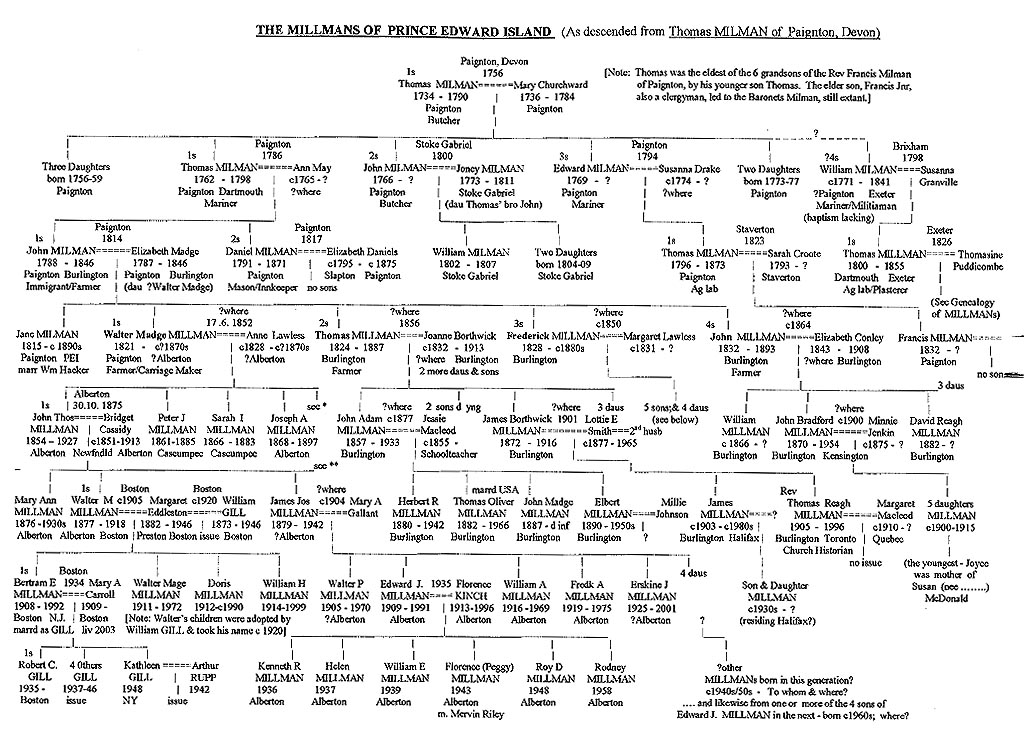 [Note: As there is not room on the pedigree for all the issue of every married couple, some daughters and those who died in infancy are not always shown. However, we include here some of these at least - ie (1) as per * - other issue born to Walter Madge Millman and wife Anne (nee Lawless) include: Mary Jane born 1852 in Cascumpec, died - unknown; Margaret Ellen born 1855 in Alberton, died - unknown; Elizabeth Anne born 1857 in Cascumpec, died in Massachusetts, when unknown; Peter born 1859 in Cascumpec, died infant in 1860; Sarah born 1863 in Cascumpec, died next day; Joseph Ambrose born 1868 Alberton, died 1897, where unknown; 'Major' born 1869 and died 1870, where unkown (?Alberton). And (2) as per ** - other issue born to John Thomas Millman and wife Bridget (nee Cassidy) include: William Alfred born 1880 (?Alberton), died 1916 in Alberton; Elizabeth Anne born 1881, when and where died unknown; Catherine Jane (Katie) born 1883, died 1961 (?Alberton); Bessie May born 1885, died 4 May 1933 (?Alberton). The four daughters born to James Joseph Millman and wife Mary Ann (nee Gallant) were: Carrie b 1906, d 1911; Margaret Georgina b 1911, d 1992; May Catherine b 1913, d 1994 and Ann Helen b 1921 - all in Alberton seemingly.]
The family descended from the 3rd son Frederick is shown separately below - there not being space in the main pedigree for this later reported detail.
Kathy Rupp has now provided the following information on the youngest child of Frederick and Margeret - James Andrew Millman (b ca 1871): He married Sarah Elizabeth Steele of Richmond in about 1891 and with her had 7 children, seemingly in Summerside, PEI, where he later became the Police Chief. He lived to a good age, dying there in 1956, aged 85. In addition to the data shown in the above pedigree, Kathy has discovered the following about the children: 'The 2nd daughter Marjorie married Elria Thibodeau and by 1956, was residing near Ottawa, Ontario. That same year (when their father died), her slightly younger sister Helen (or Kelly?) lived in America, having married one Raymond Hargrove of Bridgeport, Conneticut. Their brother Watson also moved to the USA by that date - living then in Allston,near Boston, Mass. He had been a Telephone operator in the Canadian Army in the 1stWW but by 1930, was shown in the American Census that year as residing in Brookline, Mass. with a wife Catherine. The next child was Rita who had moved to Moncton, N.B. by 1956, the wife of Dr Arthur LeBlanc. Her younger sister Marion had also moved away from PEI before that year, when she resided in Rochester, NY, the wife of Weston Clark. Finally, the youngest child of James and Margaret, Alberta Cecelia Millman (born 28 Jan 1909) had, like her brother Watson, moved to Allston, near Boston by 1956. Back in Summerside, she appears to have had a child Mary Pauline Millman on 30 June 1928 who was given up for adoption. She in turn (surname unknown) gave birth to a daughter named Pauline who married and raised 13 children, living latterly in Charlottetown. Meanwhile, back in Allston, Mass., Alberta would marry one Julius Hornick (ca ?1930s). It is not yet known if they had any children.
Several Millman families are still resident in Prince Edward Island, I believe, particularly in the Alberton area, and as shown, others may well have spread elsewhere in Canada and America. In contrast, no males appear with certainly to have survived from Thomas Milman, the eldest of that family, back in Paignton or area itself - although my own line does continue (in both Canada and England) but its connection with either Thomas or with one of his many cousins has still to be fully established. Any present day Millmans living on the Island today (or elsewhere) would, with gratitude, be recorded at this point or in a revision of the foregoing pedigree - if they send details to the author (see email address at the bottom of the Tripartite Homepage).
After writing the earlier paragraphs above, I was (as now implied) contacted by one descendent of the PEI Millmans - Mrs Kathy Rupp - now living in Pennsylvania. We established that her grandfather was Walter Millman (bn 1877), a grandson of Walter Madge Millman (bn 1821 in Paignton) who, as mentioned, was brought to the Island as an infant. Her grandfather Walter left the Island in his late 20s and settled in Boston, Mass. where he married a recent emigrant from England - Margaret Eddleston - with whom he had several children before his early demise. Margaret re-married and her children were adopted by their step-father William Gill whose surname they thus adopted (see pedigree). Further enquiries in PEI by Mrs Rupp have, as mentioned, produced considerable additional data which I have drawn upon in revising the pedigree and associated text (and for which I am most grateful).
An additional earlier source of information quoted by Mrs Rupp is another book on the community concerned - entitled 'From The Top Of The Hill' - also written by Mrs Ruth Paynter - in conjunction with Mrs Thelma Campbell of Irishtown. In this, confirmation is provided on the origin of John Millman of Paignton, the first of this family to settle in PEI. The following is quoted verbatim:
"John Millman (spelled Milman in England), born in 1788, was a son of Thomas and Ann Milman of Paignton, Devonshire, England. On April 5, 1814, he married Elizabeth, daughter of John Madge. [Note: I later concluded that her father was in fact one Walter Madge - which proves consistent with the frequent use of this name in his Island descendents. However, Walter also had a son John in 1771 who, conceivably, may have had a daughter Elizabeth by, say, 1793 - who could have married John Milman in 1814; I have, however, found no such daughter born to a John Madge (thus far).] Their first two children were Jane (b.1815) and Walter (1821). They emigrated to PEI in 1821 or 1822 and leased land on the Cunard-Cundall estate in Lot 20. At one time the property extended from the South West River to where St. Stephen's Church and schoolhouse now stand. Three more children were born to John and Elizabeth Millman. Thomas (1824), Frederick (1827) and John (1831). The parents seem to have made a success of farming but they died within a week of each other in 1846 during a deadly epidemic which struck both the Maritimes and the Canadas.
Before this disaster, Jane, the oldest, had married William Hacker of Lot 21 in 1839 and had moved away. Of the four brothers, it is probable that the senior, Walter, held the farm at first in his name. He seems, however, to have taken up land before long in Norboro where he operated a mill. Fred held land across the river in Clinton. Although both Walter and Frederick kept in touch with their old home yet their close ties were soon broken. The two brothers married two sisters, Lawless by name, and also moved away. [Later determined to be to Alberton, PEI, I believe.]
Thomas and John Millman stayed on the original farm which was eventually divided between them and was bought from the Cunard estate in 1866. When John married Elizabeth Condly, he first thought of building on the "Big Hill", where an excavation still marks the spot, but he changed his mind and built the house which, much altered, is the home of Archie Johnstone. When he died in 1893 his son, John Bradford and Minnie Jenkins Millman had the following family: Marion died young; Anna (Mrs. Cyril Kenny, Summerside); Marie (Mrs. Ernest Westlake, Ontario); Jean (Mrs. William Lawson, Ontario); Joyce (Mrs. Harry Lapthorne, Charlottetown). A niece, Olive Millman, went to Boston, USA where she married Thomas Knight and had three children: Thomas, Richard and Louise (twins).
Other children of John Millman the second (b.1831) were Joanna, William, David Reagh, Mary Eliza and Clara Maud.
In 1856, Thomas Millman, son of the immigrant John, married Joanna Borthwick, housekeeper to the brothers. When their first-born, John Adam Millman, was only an infant the Millman home was burned with practically all its contents on a cold March night in 1858. While their new house was going up, the young couple lived for a time first with the Paynters and then in John's new home, just completed. Other children of Thomas and Joanna Millman were Ephraim (1859-1875), Herbert Read (1862-1880), Margaret (1865-1869), Catherine Jane, later Mrs. John Doughart (1869-1948), and James Borthwick (1872-1916). Thomas Millman was a quiet reticent man, able to turn his hand to many a trade. He had a deep religious faith which he communicated to his household. He contributed in land or money to the building of the three churches in the Parish of New London. It is related that when the new road to Irishtown was being built through the Millman property he wanted it to be called the Paignton Road after his parents' Devon home. He died in 1887.
Of the two sons of Thomas Millman who survived him, John Adam, aged 19, married a schoolteacher, Jessie Macleod. For a short time they lived with his parents and their first child, Mary Elizabeth Millman, was born there. Then the adjoining Cousins farm came on the market and for years the combined efforts of the Millman families went into earning money to buy it. John Adam and Jessie Millman brought up a family of seven and lived out their lives in what must have been one of the first houses to be built in the settlement. It is said to have resembled the John Millman house burned in 1858.
James Borthwick, the other surviving son of Thomas Millman, was only 15 when his father died, but he took over the farm, cared for his sister until her marriage in 1901 and looked after his mother. In 1901 he married Lottie Everett Smith of Graham's Road. About 1907 he enlarged the old house and built a new barn to replace one which had burned. He was an ambitious and successful young farmer, active in church and community affairs, but he died after a long illness in 1916. His widow and two children moved to Kensington where she married John G. Townsend, a direct descendant of James Townsend of Park Corner (1709-1796). She died in 1965.
James and Lottie Millman had two surviving sons, James, the younger, is now [ie ca 1990s] retired in Halifax where his two children also live. Thomas Reagh was educated in Prince of Wales College and the University of Toronto. He studied theology in Wycliff College, was ordained to the priesthood in 1934, and served in parishes in Ontario and Quebec. For much of his life he has taught in theological schools, first in Montreal, then in London, and latterly for twenty years in Wycliffe College, Toronto. While at Wycliffe he acted as well as archivist of the General Synod of the Anglican church of Canada. Among his writings are two biographies of Canadian Anglican bishops and three parish histories, including a history of the Parish of New London. In 1944, he married Margaret MacLeod of Lake Megantic, Quebec. They live(d) in Toronto, his home in retirement."
-- -- -- -- -- --
Sadly, Thomas and Margaret had no family to carry on his name and remarkable qualities. One wonders if his brother James may have had a son possibly still living in Halifax. At present, space considerations restrict the pedigree mainly to the male descendents (who carry on the name) as otherwise it tends to grow exponentially (in width) with married daughters and their succeeding generations! As further relevant information arrives, it may be incorporated into the associated text. One hopes that any such later members of the family or friends of same will be interested in reading about the Devon origins of this family in the section called The Milmans of Paignton in the later section of The Genealogy of the Millman Family - Part Two.