THE MILMANSs OF PAIGNTON
As mentioned, the name Mil(l)man is spelt with one or two 'l's about equally. As with the bulk of surnames, the final accepted spelling often depended on just how a particular official spelt the name in various documents, baptisms, marriages, etc at the time members of that family first became literate. They would often then adopt that current spelling, as would their children. Separated cousin lines could then end up with different surname spellings in perpetuity - despite being derived from the same basic progenitors. Settled spellings began around 1800 or so for the mass of the population but may have a century earlier for the relatively few who had sufficient education this early.
Some of the earlier members of the Paignton family were certainly sufficiently educated from that time to have settled upon a given spelling - typically 'Milman' - as a contemporary Vicar was probably then spelling it - if arbitrarily. This would then continue for most of their descendants until and if any failed to continue to receive such education. Some alternative version might then arise in various related lines. Some complex surnames - of one original family - may have up to 10 or more different spellings; 'Shakespeare' apparently being a case in point. While the spelling 'Millman' would seem more consistent with the apparent origin of the name, we shall often revert to the one 'l' version for this section of our account, as this was the typical spelling for most of that distinguished family.
When I first visited the Devon Record Office in 1978, an assistant suggested we might look up our surname in a special index of documents about and references to a large number of Devon families over the centuries. There wasn't a lot on Mil(l)mans but I did jot down a few early references - including one concerning an Agnes Milman of South Brent (a large village just below Ashburton) who seemed to own some property there around 1690. There was also reference to an early newspaper article concerning a former pupil at Totnes Grammar School (between Paignton and Ashburton) - namely one Francis Milman, who attended same about 1755 and had later earned considerable distinction. I later looked this name up in the Dictionary of National Biography, and in Alumni Oxoniensis, and soon discovered that a family named Milman (to which, as I would later discover, this Francis and the above Agnes belonged) - were settled in Paignton, Devon from just before 1700 - producing a number of learned descendants. There were no other Mil(l)mans settled there before this.
Amongst these, was the above Francis Milman who would become Sir Francis Milman, M.D., Baronet, in 1800, having been appointed a Physician to George III at about that time. His second son, the Rev Henry Milman, became even more famous - as Dean of St Paul's Cathedral in London, having first been a Professor of History and Poetry at Oxford. At the Cathedral, he was the most respected orator of his day, filling the church every Sunday during the 1860s. He wrote a number of respected ecclesiastic histories. Later descendants included such as the Bishop of Calcutta and the Registrar of the University of London. The senior line has continued the inheritable Baronetcy, there no doubt being today a 9th or 10th Sir (Somebody) Milman, Bt residing in a family seat somewhere, one suspects, in southern England. Other descendants have had successful careers in the services, the professions and the church. [Note: the current and 10th Baronet of the family is in fact 'Sir David Milman, M.A., Bt', now residing in Kent, the son of the 9th Baronet, the late Lt Col Sir Derek Milman, M.C. of Suffolk, Bt (d. 1999).]
The earliest of this family to receive higher education was an even earlier Francis Milman - whose entry in Foster's Alumni Oxoniensis describes him as gaining a Scholarship to Exeter College, Oxford (to where many Devon students then went) in 1684. He graduated in 1687 and then studied for the church. After a probationary period in a Devon country parish, he became the Vicar of Paignton in 1695, a fairly important church at the time, serving some role for Exeter Bishops, I believe. Francis appears to have married Joane Prideaux about then. She was a member of a rather important family which had produced men of eminence in several fields including Chancellors of the Exchequer and Deans of Oxford Colleges. On the other hand, as pointed out by a present day member of that family, there are many examples also of Prideauxs who have had to slip down the social scale when not inheriting family property or obtaining higher educations - often reserved for the elder sons in the past. This would happen also to several (even most) of the descendants of the Rev Francis Milman of Paignton - the first educated Milman of that town.
The entry in Foster showed this Francis Milman to be the son of one "Thomas Milman of South Brent, Devon, pauper". Later members of this family would seem to have accepted that this, their earliest known ancestor, was indeed of this station in life. But such a description may have transpired simply because Francis was for a time before taking up his Scholarship, a 'Servitor'- which was a way of earning one's keep at Oxford before completing entrance exams - at about age 16. Otherwise, and possibly more likely, it may have arisen as a transcription error of some Latin phrase associated with his described early status. I concluded this after discovering from early property documents at the Devon record office that the largest mill complex in the South Brent area - called 'Brent Mills' - was in 1664 leased for over a 100 years (from the Petre family) by one 'Thomas Milman of South Brent, Miller' - a neatly appropriate occupation for this then early member of the family.
This lease was to revert to his wife Agnes and then to their children, if and when Thomas died. In a later lease, Agnes was again named, plus their two sons: 'Thomas Milman, a Mercer of Ashburton, and Francis Milman, Vicar of Paignton, Clerk'. This clinched their origin. The premium paid for the lease was in today's terms worth some thousands of pounds and no way could a 'pauper' be in this important local position. Moreover, it was later concluded that Agnes was herself a Prideaux and quite possibly a relative of the then Head of Exeter College, Oxford, who may have been responsible for young Francis going up to that college. He would thus appear to be the first of the family to be so educated. This was greatly to improve the future of some at least of his descendants. Thomas Milman, the Miller, strongly appears to have derived from a family of Milman/Millmans settled for some time in the pleasant market town of Modbury (also a centre for the Prideaux family), a few miles south of South Brent. His line may have descended from one Henry Milman of Little Hempston, Devon, born in 1562 as noted in the IGI; parents unnamed at the baptism. Thomas of Modbury certainly had cousins named Henry.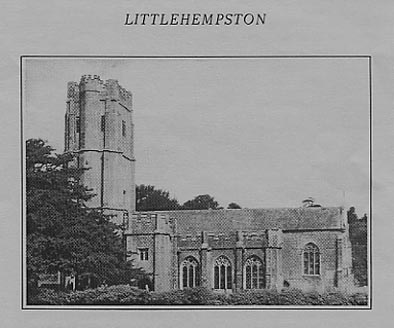 This is a delightful rural parish appropriately situated mid-way between Paignton and Ashburton and not that far from Modbury. I am quite happy to accept that this was a likely origin of the Mil(l)man family of present interest - during the early 1300s - with someone who ran a nearby local mill likely being accorded this surname about then.
Some insight into the life of an early Miller is provided in a notice shown in a still working mill on a large estate at Mapledurham, Berkshire. It reads: "The Miller held his tenure from the Lord of the Manor on much the same terms as others held land. Within the terms of his tenancy, he was his own master and was guaranteed the whole of the Milling business of all the tenants on the estate. He was entitled to one sixteenth of the corn (ie wheat, barley, oats, etc) brought to him for milling - that is, one peck out of each four bushel sack. His customers were always convinced that he might cheat them and were only too ready to catch him out. In 1437, one John Taylor was found guilty of this three times. However, Master millers were few and far between and the local community could not do without them so they remained in business in any case. By the end of the 17th century (eg when Thomas Milman held Brent Mills on the Petre estate) the Mill (at Mapledurham) was in big business and had been extended several times. The Miller had a good house in the village (Mill House on the left as one leaves the village) and a small farm on the slopes above. He would keep his livestock there and feed them on surplus grain and sweeping from the Mill."
Thomas's son, the Rev Francis Milman and wife Joane settled down at the Paignton Vicarage where, between 1696 and 1718, they had 11 children, including 5 sons. However, they lost 3 of these boys and several daughters up to and including 1718, a year in which, sadly, four of the children and both parents all succumbed - seemingly to some untreatable infection. The elder of the two remaining boys was Francis Jnr, born in 1703 and thus just 15. He was shortly to win a Scholarship to Oxford (like his father) and thus was in a local Grammar School at the time, possibly boarding. This was likely at nearby Totnes where his illustrious namesake son - also Francis (the third of this name) - was certainly later enrolled, as described in the newspaper cutting referred to earlier. The younger of the two surviving sons was named Thomas, no doubt after his grandfather, the miller of South Brent, who had died before 1696. But the younger Thomas was at a more vulnerable age than his elder brother when they lost both parents, being then about 10 and not yet in Grammar School. He was probably cared for initially by his elder sister Elizabeth, then aged 21, who would likely have received something from their parents' estate, administered by a trustee. This would probably be her father's elder brother Thomas, the Mercer of Ashburton, one of those named with their mother Agnes as future lessees of the Brent Mill complex on his father's death some years before. Sadly, however, there was a serious fire at the Mill which had to be re-built. Thomas the Mercer later sold the lease to his sister's husband. It was probably uncle Thomas (described variously as a Mercer of Ashburton (a dealer in silks and fine cloths) or as a Merchant Tailor of neighbouring Denbury) who took over the responsibility for raising his younger nephew and namesake Thomas. It seems unlikely that the boy would have entered the Grammar School - typically at about age 12 then - which were all fee-paying at the time. However, this is speculation and he may have attended such a school for a time. Possibly he then entered an apprenticeship - if not with his uncle then with someone arranged and recommended by that uncle. If he continued living with his sister, this may well have been in Paignton itself where the family, or what remained of it, would have their main connections. This would have been from about 1724 to 1730, say - during the reign of George II. Equally, however, Thomas may have inherited a small investment income and pursued no particular occupation.
During this same period, the older brother Francis was away completing his B.A. courses at Oxford and then continuing his training towards becoming a Priest. He would have had his first position, as a Curate, around 1730 and shortly after, his first church about 1735. This was at East Ogwell, a small parish mid-way between Paignton and Ashburton, and next to Denbury, which his nearby uncle may well have helped arrange. Wisely, he seemed in no hurry to marry, preferring apparently to await the availability of someone with a property or small inheritance. His position and potential financial security in the local community would no doubt be expected to attract this, at least. He bided his time.
Meanwhile, by 1730 or so, younger brother Thomas was entering adulthood and still residing in Paignton. Some of his sons would later become Butchers and because many at the time trained in such trades with their fathers, it is possible that Thomas was himself of this occupation but as yet there appears to be no clear evidence. It certainly was the case that he was referred to more than once in the Paignton parish register as 'Mr Thomas Milman' - this styling usually reserved for those who did not require a trade or occupation (eg as the eldest son of an Esq before inheritng property or marrying). In contrast to his brother, however, he didn't 'bide his time' in that latter regard but married as soon as he could or, more likely, as soon as he had to. A local family of middle status, the Brookings, had a daughter Jane who seemed to take his eye. They married in November 1733 in Paignton and their first child, Thomas, arrived in April 1734. Clearly a loving couple, by 1754 they had twelve children - 7 sons and 5 daughters! They would seem to have been a happy, close-knit family in moderate circumstances, headed by a respected son of the former Vicar. But what kind of education could he afford to give to his many sons and what dowries and joyntures to help promote successful marriages of his several daughters - ie to young men with education, property and prospects? The answer in both cases, it appears, was probably 'very little'.
His older brother, on the other hand, married rather late - in 1740 - by which time Thomas, albeit much younger, had already had 6 of his eventual dozen children. Francis married Sarah Dyer, from whose elder brother he seems to have purchased a small estate just two miles from his church (her parents having both died some 14 years earlier). She presented him with just 4 children in total - firstly three daughters and then just one son. None of the girls would marry - one dying young. This only son, also named Francis (third of the name), was born in 1746 and would thus grow up with considerable parental and sisterly care and attention on a pleasant if small rural estate, with more than adequate financial and emotional security. Young Francis certainly thrived in this environment; he won a Scholarship to Oxford when only 13, graduating with his B.A. at 17! His potential at least was certainly being fully realised.
Meanwhile, a few miles down the local country lanes, in Paignton, brother Thomas and family seem to be having a more difficult time. His business or sources of income may have been insufficient to support his growing family for some domestic instability becomes apparent around 1740. His 5th child was baptised some miles away in Buckfastleigh that year (near Ashburton) rather than in Paignton, his 6th somewhere else (yet undiscovered) and numbers 7 to 12 in rather distant Throwleigh, 9 miles to the north-west and, like Ashburton, on the edge of Dartmoor. He may have started a new business there or simply found a larger but more reasonable house. [Note: an earlier Thomasine Milman (uncle Thomas's daughter?) had married there some years before.] In any case, several of these later children returned to Paignton to marry and live and Thomas Snr appears himself to have been a churchwarden and to be buried there. ['Appears', as his namesake son was also active in Paignton then and it is not always possible to differentiate them in these regards.]
By 1755, the family pedigree, showing the two brothers' respective young families, may be depicted as follows: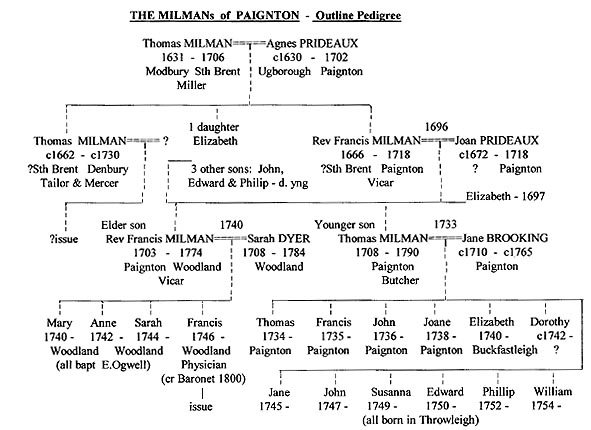 With a good intellect and favourable environmental factors behind him, young Francis, son of the younger Rev Francis Milman, carried forward alone (an only son), a most promising future for his branch of the family at least. I try to visualise a scene at his comfortable home in Woodland about September 1760 when he was but 13 or 14, with a goodly command of grammar school latin and greek, and no doubt some 'arithmetick', ready to leave home for Oxford - fully two years younger than most, and being visited by his first cousins of similar ages, but much less academic backgrounds, trying to find something in common to chat about. One of these cousins, the second John (the first one dying an infant), was a near contemporary. Like his father, he too would become a Butcher - in nearby Stoke Gabriel - and must have had some schooling, for he would sign his name at his marriage (in 1769). But later generations in his and his younger brothers' branches of the family would show this capacity less and less - for many years.
But, the first of Thomas's sons to marry was his namesake Thomas, the eldest (and 4th of this name thus far), who married Mary Churchward in Paignton in 1756. He too may have become a Butcher there (though evidence is still sought) with his father apparently still in Throwleigh, for they subsequently had 7 of their 9 or more children baptised at Paignton church (with no other Throwleigh evidence for the family there) . Mary's extensive Churchward family were also much in evidence in this town (and nearby Stoke Gabriel). Their first three children were all girls, born in 1756, '57 and '59 and named Mary, Jenny and Elizabeth - after Thomas's wife, mother and mother-in-law, respectively. Their next child for whom a Paignton baptism was located was a son, surprisingly named John, not born iuntil 1766. As Mary was clearly of normal fertility, this gap of almost 7 years seems rather surprising. He was then followed at the more normal 2 to 3 year intervals (at Paignton) by Edward, Joane and Catherine up to 1777. It thus appeared quite probable that within that 7 year gap, one and possibly two others were likely born to them - but baptised elsewhere. In particular, it seemed odd that there was no son named Thomas - which would certainly have been expected before one named John (this latter name being that of Thomas's nearest local brother, also a Butcher) - despite the name 'Thomas' being both his own and his father's name! Moreover, Thomas's several brothers all named one son Thomas, and others Francis and William. Where were the baptisms for these other, reasonably expected, sons of Thomas?
One felt strongly therefore that a son Thomas in particular must have been born to him - around 1762. This idea, as alluded to earlier, seems to have been supported with the discovery later (in PRO records for the period 1795-97) of a Thomas Milman, Mariner - described as being 'of Paignton', and born about 1762. All other Thomases in the Paignton family were the wrong age to fit this position. Of apparent relevance to this also was a marriage - in Paignton - between such a Thomas Milman and one Ann May in December 1785, when this Thomas would be a fitting 23. As a Mariner, he may well have resided in Dartmouth when ashore - for we recall also that a Thomas Milman was later buried there - in 1798 - coinciding significantly with the end of this Thomas's documented marine career. He and/or his widow Ann could thus have provided a most convenient home-base in Dartmouth for any younger brother or cousin (ie our William - recently 'demobbed') that he may well have had - born about 1770-73. Moreover, the name given by William to his first daughter - Mary Ann - proves consistent with his mother having been Mary (nee Churchward) and, in effect, a motherly sister-in-law being Ann (nee May).
Thomas Snr, the father of this previously 'missing' Thomas, named his next, second-known, son Edward (baptised in 1769), this also being the name of another of his brothers. But, as mentioned, we would expect him to have first named a son named 'Francis', probably around 1764/5. His baptism too should be sought. This would leave only his youngest brother - William (born 1756) - not being so commemorated by the elder Thomas. Significantly, there was also time, and around 1771 at that, for just such a son William to have been born - to Thomas and Mary (a fertile couple still in their mid-30s, with no contraception) but, again, no baptism has yet been located for him. The birth of such a William would of course prove most compatible with what information we have about 'our' William - the father of Thomas, his seeming first born (1800), and thus most-likely named after his own father of that same name. It would seem quite significant that 4 of the remaining 5 brothers - Francis, John, Edward and William all named one son William (as well as others Thomas) while the 5th brother, Philip, had only one confirmed child, a daughter, so even he may have had a son William as well, elsewhere). Could Thomas, the one we would most hope and expect to have done so, be the only one (with sons) not to have named one William?? And why would he also not have had his other probable sons Thomas and/or Francis baptised locally? The apparent absence of these latter events (especially with regard to Thomas, whose existence we have so confirmed; see below)does at least allow the assumption of a similar absence pertaining to our William seem much less unreasonable than if his was the only baptism we had suggested could be lacking. Two or even three such baptisms elsewhere does seem the most reasonable hypothesis at present. The hunt goes on. Thus…
A partial answer to the above considerations was, as indicated, obtained when the result of a request to Devon Record Office referred to earlier was finally forthcoming. Marldon chaplery did provide the suspected confirming evidence: a Thomas Milman was indeed baptised there - on 22 June 1762 - born, as predicted, to Thomas Milman and wife Mary (whom we must assume was nee Churchward, there being no other Mary having Milman issue locally then) - on 28 May that very year (which was also as predicted on the basis of our other evidence quoted about Thomas Milman - the mariner of Paignton and Dartmouth). But, sadly, missing baptisms for neither of the two other sons expected to have been born to them were found - in Marldon at least; ie Francis about 1764, say, nor William about 1771 - despite there being a William Milman in the ship - also shown as born (if, like Thomas, not actually baptised) in neighbouring Paignton.
One can only conclude that if no evidence can be found for the baptism of such a William born to Thomas and Mary, he must be one of the two Paignton Williams born there to Thomas's brothers - John or, more likely, Edward. (Or, did one or other of these registrations confuse the name of the father - there being so many Milman brothers then active in Paignton; I have come across such mistaken entries elsewhere - often when the cleric writing the entry was a new curate - unfamiliar with those concerned).
The name Thomas was more common in this family than any other, as they had all descended from the earlier Thomas Milman Snr who had been a relatively important person in the Paignton area. Of all the clusters of Milman/Millmans in Devon, the name Thomas was relatively rare and there was only one other that had it and William in such association, namely in the Okehampton area (north of Dartmoor). I've been unable to trace any meaningful connections between that family and our line of Millmans. The Paignton line appears far and away the most likely source. But if William was born to Edward, or even to John, why did he (apparently) not name a son with either of these names? Maybe his mother died young and he was brought up with his uncle Thomas's family and so wanted to commemorate that latter name more? Edward's wife was a Susannah - the same as would be young William's bride himself and hence we can't rely on his use of this name - for a daughter (which he did use) - as support necessarily for such a mother. I still believe William was more likely born to Thomas and Mary Churchward - with Edward an increasingly distant second possibility.
We now revert to the earlier generation: After Thomas Snr and Jane had their aforementioned eldest son Thomas in 1734 (destined to marry Mary Churchward), they at least did have a son Francis - in 1735 (see Pedigree) named after Thomas's father, the 1st Rev Francis. This Francis married in 1759 a girl from the relatively distant village of Sandford, where he settled and remained. This was next to Crediton, in a more central part of the county - but in fact not that far from Throwleigh where, like his older brother, he would have spent much of his youth. He too became a Butcher and may thus have sought a relatively close location not already served by his own family. Francis had a large family in Sandford - with all the expected names including Francis, Thomas, Jane, etc and yes finally, a William, in 1781. This latter William married in Sandford, as a single man, in 1803 and was thus not our William (who had married 7 years before)- although his presence so near to neighbouring Crediton when Richard Puddicombe and John Bennellick from that town (and others from nearby Sandford itself) were joining the Cornish Militia (in 1796), as had our William, provided a brief moment of optimism and not a little confusion. However, besides his marriage, he turned out to be too young as well. Still, as mentioned previously, the presence of a Paignton Milman family in the Crediton area at all may well have been a factor in our William and Richard Puddicombe's eventual friendship. Francis would have been William's second eldest uncle and thus, if William's father or mother had died before he was fully independent, such an 'uncle Francis' (if not an 'uncle Thomas') may well have taken him in for a time. He may then have joined up after some of his local pals had done so - although in Plymouth (like one of the Benellicks of Crediton had in fact also done). Living for a time in Dartmouth, probably later, with older brother or cousin Thomas, and/or the latter's widow Ann, seems another not unreasonable likelihood - especially if he had been to sea, as had a number of the Paignton family Milmans.
[It may be mentioned here that the aforementioned Thomas (bn 1762 Paignton; bp Marldon) and wife Ann May married in Paignton in 1786 and had two sons there - John (bn 1788) and Daniel (1791). (Again, there was no other Thomas and Ann locally). It was this Thomas who, as far as we can ascertain, died and was buried in Dartmouth in 1798 - and quite possibly a brother of our William. Thomas's elder son John married Elizabeth Madge in Paignton in 1814 and after having a daughter Jane, they had a son christened Walter Madge Milman in 1821, also in Paignton. They then emigrated to Prince Edward Island, Canada later that same year. In 1823, John leased about 150 acres of land near Burlington, PEI which he farmed. He had other children there, including a son John ca 1832 and also a Thomas and a Frederick. I believe this John Snr died in 1846 and his son Thomas before 1890. Their descendants remain on the Island to this day - one of whom - the Rev Thomas R. Millman (as they spelt the name) died recently (1996) aged 91 - having achieved considerable fame in Toronto as a most able churchman and renown historian of the Anglican church in Canada. (The two earlier Rev Francis Milmans would no doubt have been proud, and vice versa.) He left no issue.
Back in Paignton, Thomas and Ann's younger son Daniel had married Elizabeth Daniel there in 1817 and became a Mason and Innkeeper. He died in 1871 and left two or three small properties in Paignton to his wife. Their only sons died in infancy and one daughter married William Goodridge and had three children. Thus, no Millmans descended from this line in Devon (unless we can show that a son William (leading to yours truly) was indeed of this line, as he increasingly appears to be).]
But, to return to the children of Rev Francis' younger brother Thomas and wife Jane: While their elder sons Thomas Jnr (who married Mary Churchward) and Francis were thus close contemporaries, if settled later in quite different places, the next surviving brother, John, was considerably younger than either (an earlier John having died in infancy) . He appears to have trained with Thomas as a Butcher in Paignton, for he married a younger 'cousin' of Thomas's wife Mary, confusingly a girl of the identical name - Mary Churchward - in the neighbouring village of Stoke Gabriel. They settled there and had 5 children before Mary died. He seems to have had a short fuse for the Devon Quarter Session records show that he (described as a Butcher of Stoke Gabriel) was charged with having assaulted one Samuel Snelling on 19 Nov 1775 and subsequently fined One Pence (!) at the Easter sessions 1776. The following year (on Dec 26, 1777), he and his seeming brother-in-law Henry Churchward, Yeoman were both fined One Pence again on both counts of Riotous assembly and assault on a James and John Shepard.
Following his 1st wife's death, John re-married and had 3 more children in another nearby village - nearer to Ashburton. His first son (with Mary), John, named after himself, became a Carpenter in Torquay - then at the start of its substantial development. His 2nd son was named after his father Thomas, while his first daughter was named Joney, seemingly after his mother Jane - (who was described variously as Jane, Jone or Joane in the register). Joney would later marry her cousin John Milman, Thomas's 3rd son (born 1766) who, significantly, was not able to sign his name at his marriage. John's 3rd son, in turn, was one of the Williams born a touch too late to represent our William - that is, in 1775 - in Stoke Gabriel. However, we again note that William named no son John and, in any case, 1771 still appears to be a slightly more likely year of birth for him - especially to the Thomas born in 1734 - if not to Edward two years later (for whom birth evidence for a William is at least available).
With both Thomas and John settled in neighbouring villages - the latter as a Butcher - and Francis similarly but in more distant Sandford, it was probably not surprising that the 3 youngest brothers - Edward, Philip and William - should also marry and settle in the former area (of Paignton), as did two of their sisters. But, with further scope as local Butchers seemingly limited, all three of these younger boys chose to become Mariners. The first of these - Edward - had his son William baptised in Sept 1773 and thus almost the right age to become our William. But as mentioned, our William named no son Edward (of whom we are aware - naming his seeming first son Thomas). Finally, the youngest brother William (bn 1756) of this first generation was too old himself to have become our William and while he too had a son William, the latter was, conversely, much too young to fill this role. We are thus left with the possibility that eldest brother Thomas had a son William in early 1771 who would best fit the requirements of our William - with Edward's son William (bn late 1773) being a second possibility. Certainly, the names Thomas and William are, with two or three other names, amply represented throughout this Paignton family of Milmans. In other families, one may find a surfeit of certain other name-combinations over succeeding generations - such as Robert and George, say, or Edmond and James, etc, without a single William or Thomas, never mind their frequent association; equally, we also note that none of those other names or combinations (nor many others), ever appears in the contemporary Paignton lines.
With so many sons, grandsons and great grandsons with the same few names, the reader has been tested beyond endurance. If this aspect of the pedigree is therefore set out in some detail, the text may be related to this as required. Because of a lack of space, this will have to show mainly sons and even these just in lists: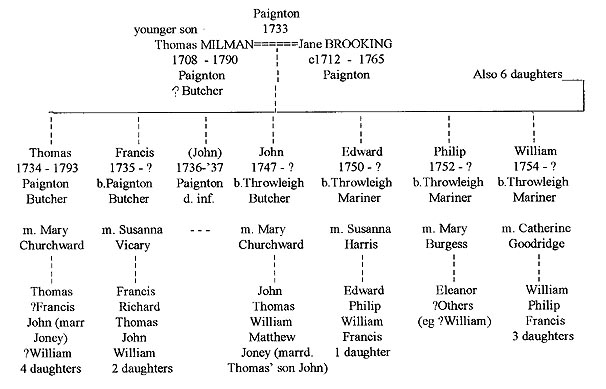 It may be seen that the same 6 names - Francis, Thomas, John, Edward, Philip and William recur consistently. All but the last one were used by the first Rev Francis in the early 1700s, repeated by his son Thomas, with the addition of William, in the next generation and then a selection of all 6 tended to dominate in the third generation as well. Only Richard (the name of Susanna Vicary's father) and Matthew (the younger Mary Churchward's father) vary this pattern. By about 1800, there were about 50 Milmans derived from this line living in Paignton and nearby parishes, and about 20 others in Sandford - all descended from Thomas and Jane Brooking (and thus ultimately from the elder Rev Francis Milman and his father Thomas the Miller). It seems not at all unreasonable to assume that our William was certainly amongst them. By the next generation, a more varied choice of names becomse apparent - as families necessarily drifted away from their roots to seek employment; also, popular new names and second (middle) names were gradually becoming more fashionable in the new century and the coming Victorian era.
The 6 sons of Thomas Snr all signed their names at their marriages but, by the next generation, the younger children - especially of the 3 Mariners - showed this ability less and less. Equally, the skilled training and apprenticeships of the elder sons and of the earlier generations became less affordable in such large families and semi-skilled and unskilled occupations became increasingly apparent. Also, the daughters in the third generation and after, with little or no dowries, found it increasingly difficult to attract young husbands with any such skills, education or secure livelihoods. Girls finding themselves with child more often found that their young men were seeking work elsewhere - often permanently. Two generations earlier, such anticipated marriages were probably just as common but the marriages usually did transpire - with the first child simply arriving rather early. Now, illegitimacy and single motherhood became rather more common for some generations.
-- -- -- -- -- --
Finally, we may contrast the mushrooming family of 70-odd Milmans derived from Thomas Milman Snr with that of his one surviving elder brother, the Rev Francis Milman. As mentioned, his only son, also Francis, was born in 1746 and after education at Grammar school and Oxford, became the noted Physician to George IV. As with his father, he too didn't marry in his impulsive youth (as did all his cousins) but not until he was 35 (about 1781). He was by then in a position to attract the daughter (Frances) of a successful Bristol businessman - one William Hart. By this date, his cousins back in Devon (children of his only uncle) had had about half of their eventual 70 or more children - most to receive minimal educations. The physician's 3rd son became Dean of St Paul's. There must be a moral there somewhere!
Dr Milman's first son (Sir) William George Milman inherited the Baronetcy in 1821. His 3rd son, Henry Hart Milman, Professor of History and Poetry at Oxford, became Rector of St Margaret's, Westminster and later the famous Dean of St Paul's as mentioned above. Both were educated at Eton. The 3rd, 4th, 5th Baronets, etc followed in turn - in each case being the eldest surviving son, brother, cousin, or nephew and as the family became increasingly well-educated and financially secure, the age at which they married could decrease and family size prudently increase. Thus, in one later generation there were (ironically) 6 sons (!) - by one of the later Baronets - thus emulating the fertility of the Rev Francis' second son Thomas some generations earlier. The continued inheritance of the Baronetcy was thereby assured. Equally, their progeny would be expected to maintain the high academic standards set by their forebears. Universal education should ensure that even the 5th son of a 5th son (if this ever transpired) need never become a Mason's labourer - nor sign with 'his mark' (X) ! Hopefully, this won't recur with respect to my own progeny either...
John Millman (M.A., Ph.D.)
October 1991 (Revised 1999)
Millman Genealogy - Part Three (Yet to do)